Storm Elsa Brings Flooding Rain to New York, Snarls Traffic
(Bloomberg) -- Tropical Storm Elsa is dumping heavy rain as it moves swiftly across New York and the Northeast, grounding flights, delaying trains and threatening floods as it advances along the coast.

With top winds of 50 miles per hour, Elsa was about 90 miles southwest of Montauk Point on Long Island and already bringing showers to Manhattan's Central Park and across Long Island and southern New England, the National Weather Service said. A tropical storm warning extends from New Jersey to eastern Massachusetts including Boston. Flood warnings are posted from Pennsylvania to Maine.
Elsa could bring an isolated tornado with it as it moves north.
"A large swath of southern New York, Long Island, Connecticut, Rhode Island, through portions of eastern Massachusetts will get 2 to 4 inches of rain with isolated amounts up to 6," said Lara Pagano, a senior branch forecaster with the U.S. Weather Prediction Center.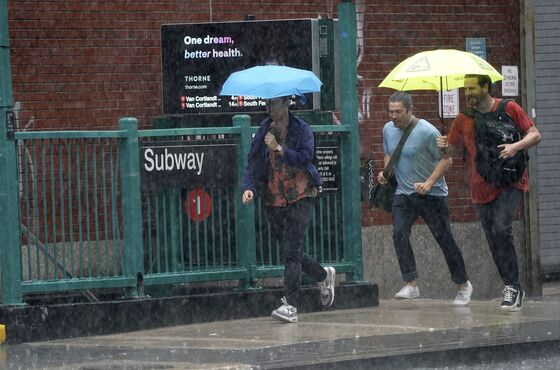 Across New York, delays have been reported on some commuter rail and subway lines, while in the air about 318 flights have been canceled around the U.S., with the greatest number in Boston and Newark, according to Flight Aware, an airline tracking company.

Elsa will quickly move up the East Coast, crossing the eastern tip of Long Island and then sailing through Massachusetts before emerging back over the Atlantic on a path toward the Canadian Maritimes overnight, the U.S. National Hurricane Center said. The storm was moving along at 31 mph.

"It will be out of New England late tonight," Pagano said. "It is going to be a quick hitter."

Elsa will then track across New Brunswick, clip the western end of Prince Edward Island and hit northern Newfoundland Saturday, according to the Canadian Hurricane Centre.