Roger Stone Prosecutor Who Quit Case in Protest Is Joining Facebook
(Bloomberg) -- A prosecutor on the trial team that won Roger Stone's conviction is leaving the Justice Department following Trump administration interventions that effectively negated Stone's prison sentence, according to people familiar with the matter.
Michael Marando, who delivered part of the closing argument in Stone's trial, will join Facebook Inc., where he will set policy on the site's content, the people said.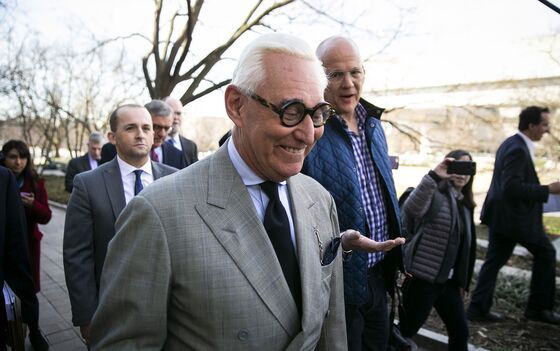 A spokeswoman for the U.S. attorney's office in Washington, where Marando has worked since quitting the Stone case, declined to comment on behalf of Marando and the office. A Facebook representative didn't immediately respond to a request for comment.
Marando and three other U.S. prosecutors withdrew from the Stone case in February in protest after the Justice Department, at the direction of Attorney General William Barr, overruled their sentencing recommendation for Stone in favor of a lighter prison term.
A jury convicted Stone of seven felonies, including lying to Congress and tampering with witnesses in Special Counsel Robert Mueller's investigation of Russian efforts to boost Donald Trump's candidacy in the 2016 presidential election. After Stone pleaded publicly for Trump to spare him prison, the president commuted his sentence on July 10, four days before he was to report to prison to begin serving his 40-month term.
Prosecutors recommended a prison term of seven to nine years before Barr overruled them. Of the other three prosecutors on the team who withdrew from the case, Jonathan Kravis resigned completely from the Justice Department at the time, Aaron Zelinsky returned to his role at the U.S. attorney's office in Baltimore, and Adam Jed returned to his position on the appellate staff in the Justice Department's civil division. Zelinsky and Jed remain in government service.
Marando earned his undergraduate and law degrees from Cornell. As a prosecutor, he was a member of the fraud and public corruption unit in the U.S. attorney's office in Washington, leading several high-profile cases involving money laundering, bribery and cyberfraud.
Facebook has attracted critics on the left and the right over its role in allowing the spread of false information and what it should do to crack down on it.