STMicro, Automotive Chipmakers Say There's Gas Left in Car Chips
(Bloomberg) -- Automotive chipmakers are sticking to their argument: growth in the use of technology in cars is outweighing plateauing demand for vehicles and falling sales caused by European safety measures.
STMicroelectronics NV -- Europe's second-largest chipmaker and one of the top suppliers of components for cars -- said that new models are demanding more chips for an increasingly bewildering array of applications, from lighting in door frames to infotainment software in dashboards.
"Clearly in the summer the automotive market faced some difficulties," said Jean-Marc Chery, chief executive officer of STMicroelectronics. "I don't see too much anxiety now."
STMicro, which supplies chips for a range of uses from powertrain to infotainment, is sitting on six to nine months backlog for all automotive components, he said at the Morgan Stanley TMT conference in Barcelona last week.
Shares of the company are down 33 percent this year reflecting a broad sell-off of industry stocks caused by concerns that new markets, such as artificial intelligence computing and self-driving cars, won't make up for slowing demand from larger users of chips, such as smartphones.
Over the past few weeks, iPhone suppliers and assemblers have warned of weaker orders. Underwhelming earnings by Hon Hai Precision Industry Co. and other suppliers has led investors to conclude that consumer enthusiasm for Apple Inc.'s latest models is waning.
That contagion has spread to makers of semiconductors for cars when companies such as NXP Semiconductors NV and Texas Instruments Inc. said orders in that area were slowing.
Shares in u-Blox Holding AG, the Swiss maker of GPS technology and wireless chips, cut sales and lowered its 2018 forecasts, due to U.S.-China tension, according to a statement Wednesday. But despite the trade gloom, the company said it remained confident sales to carmakers would increase.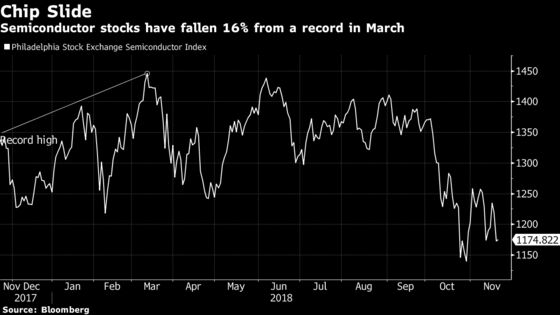 STMicro isn't the lone voice of optimism. Elmos Semiconductor AG, a smaller Dortmund, Germany-based chipmaker, currently supplies around four chips in every car. It expects this to grow to over 5 in the near future, and is planning to hire researchers and developers to meet demand.
"We do not see a weakening in our order intake," said Arne Schneider, chief financial officer at Elmos Semiconductor, adding that while there has been a downturn among carmakers, the company has not built up a big buffer of stock.
Even chipmakers heavily exposed to smartphone manufacturers have found room for optimism. Dialog Semiconductor Plc, which this year cut a $600 million deal with Apple to license its charging technology, said it's now looking at the automotive industry as a sector for potential M&A.