Stitch Fix Priced for Better Results, But Analyst Like Long-Term
(Bloomberg) -- Stitch Fix Inc.'s mixed fourth-quarter earnings report and weaker-than-expected year Ebitda guidance disappointed investors who had sent shares soaring since the last report in June. Analysts still like the long-term story, but shares were priced for a better report than was delivered. The stock is down as much as 33 percent, the biggest drop since the company's November 2017 initial public offering.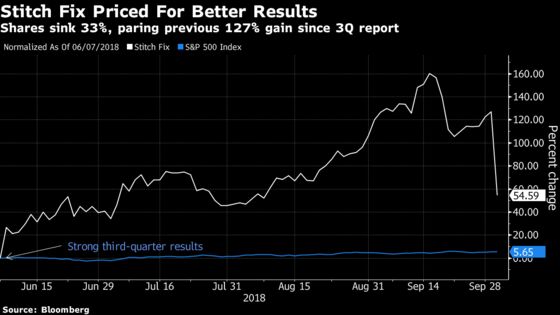 Here's what Wall Street is saying about the results:
RBC Capital, Mark Mahaney
"Fundamental trends were mixed with soft revenue growth and client net adds trends," but the company showed year-over-year gross margin expansion and advertising spend leverage. Fiscal 2019 revenue forecast was "modestly above" the Street estimate, while Ebitda guide was below, partially due to the U.K. launch.
"At the margin, we are less constructive, but believe the long-term fundamental story is intact." TV Ad testing and matching Kids demand "are manageable" near-term challenges, and "investing in new categories and markets is sensible."
Mahaney maintains his outperform rating on Stitch Fix, as well as his $50 price target; he says the company "has successfully scaled while consistently generating GAAP profitability, and amassing well over" 2.5 million active clients and a revenue run rate of over $1 billion.
KeyBanc Capital, Edward Yruma
Stitch Fix continues "to demonstrate strong growth" and "drive operational improvements," although investments "will weigh" on results in fiscal 2019.
Category and international expansion "provide compelling opportunities, but mix shift and personnel investment are headwinds." That said, "average active user spend of $447 is very healthy and we think a 20% revenue growth rate is sustainable for the foreseeable future."
Rates overweight, price target to $45 from $53
William Blair, Ralph Schackart
Share decline likely reflects the "greater-than-expected deceleration on active clients and revenue, as well as lower-than-expected Ebitda guidance for fiscal 2019."
At $36, "shares trade at an enterprise value of 2.3 times our fiscal 2019 revenue estimate, below the multiple of 4.2 times for the group of comparable companies." In addition, the stock trades at an enterprise value of 5.2 times William Blair's next-12-months' gross profit estimate, a discount to the multiple of 7.3 times for Wayfair and take-private multiple of 5.6 times for Zulily.
Maintains outperform rating.
Wells Fargo, Ike Boruchow
SFIX shares are up 125% since the company last reported through the Oct. 1 close vs the S&P 500's gain of 6.0 percent. "This is a stock that seemed to be priced for meaningful upside to numbers – and instead, top-line growth is moderating while margins compress."
The fourth-quarter results didn't pan out "as bulls had hoped," with sales "a touch light of Street estimates." The outlook for first quarter/fiscal 2019 calls for "further top-line deceleration," while the planned launch into the U.K. market that will be dilutive.
"This highly debated stock is likely to remain controversial" heading into fiscal 2019 with "more questions around growth within their 'core' as the top-line appears more moderate than we would have liked to see." Shares probably "come back down to earth as the market digests these lower growth dynamics." Rates market perform, with price target of $30.
Piper Jaffray, Erinn Murphy
Over the last three years, Stitch Fix has launched "a number of new initiatives," including footwear, men's, plus size, premium brands, Style Pass, Extras & Kids, and with the U.K. next, "we believe this creates more complexity in the model vs. scaling existing opportunities within the newer categories," not to mention boosting execution risk.
The U.K. market is "much more digital savvy" than the U.S., but "it's a smaller absolute market, highly competitive & promotional, and customer expectations are much higher vs. the U.S. market in delivery times."
Rates neutral, price target to $31 from $43
Stitch Fix's "investments in new products and categories are growing the company's addressable market, while increasing scale is improving operational efficiency."
"We support the management team's execution and areas of investment though believe the company's current valuation reflects the attractive growth opportunities ahead."
Rates hold, boosts price target to $30 from $26.
Stitch Fix has 4 buy ratings, 6 holds, and no sells, according to Bloomberg data. The average price target of $37 is based on an average of six estimates.