Stitch Fix Investors Look to Results to Ease Worries Over Amazon
(Bloomberg) -- Stitch Fix Inc. gets a chance to revive investor optimism when it posts earnings today after shares tumbled less than two weeks ago amid reports that Amazon is testing a personalized shopping site featuring similarities to the e-retailer's platform.
Following a November IPO, shares meandered until early June when they took off, rising 156 percent until word of Amazon's Scout, which recommends products based on a user's likes and dislikes. After the news hit Sept. 19, shares of the San Francisco-based company fell nearly seven percent and went on to plunge another 12 percent the following day.
The report helped push a bull analyst to the sidelines. Piper Jaffray analyst Erinn Murphy slapped a neutral rating on the stock amid concerns about a frothy price in the face of mounting risks. Along with the competitive threats from the Scout recommendation service, she also cited the chance of a slowdown in consumer spending in the downgrade.
"Market expectations do not provide any margin of error," Murphy wrote, adding that the smallest hint of pressure from such risks and others could serve as a "significant negative catalyst" for shares.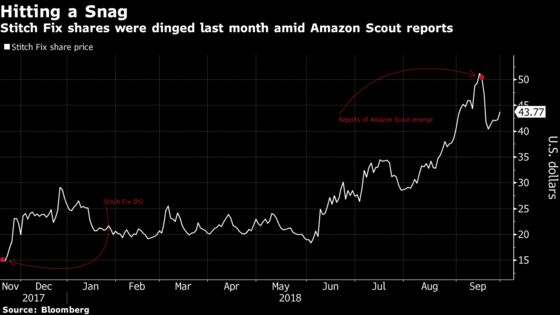 Despite the challenges facing Stitch Fix, not a single analyst is bearish on the stock. There are four buys and six holds and no sells, according to Bloomberg data. And despite the recent selloff, shares are trading higher than the average analysts estimate of $42.80, after climbing as much as 5.6% in early trading.
KeyBanc analyst Edward Yruma is one of the bulls. He named Stitch Fix a "key pick" in a September 12 consumer tech report, saying strong consumer spending data and the firm's proprietary checks point to strong results in the second half.
Here are the estimates for today's results:
4Q adjusted EPS estimate 4c (range 3c-8c)
4Q revenue estimate $318m (range $315m-$320m)
SFIX has 4 buys, 6 holds, and no sell rating. The average analyst price target is $42.80, according to data compiled by Bloomberg
Implied 1-day share move following earnings is 14.1%
Shares fell after two of the past three prior earnings reports
Earnings release expected Oct. 1 after market close
Earnings call scheduled for 5 p.m. New York time (800) 458-4121 Pin: 8417189