Stimulus, Reopenings to Fuel U.S. First-Quarter Economic Growth
Fueled by government stimulus and a reopening economy, consumers likely supercharged U.S. economic growth in the first three months of the year, posturing the world's largest economy to soon reach pre-Covid levels of output.
Gross domestic product is forecast to grow at a 6.7% annualized pace in the first quarter, according to the median estimate in a Bloomberg survey of economists. That's driven in large part by projections that consumer outlays accelerated to an annualized 10.5%, the second-fastest pace since the 1960s.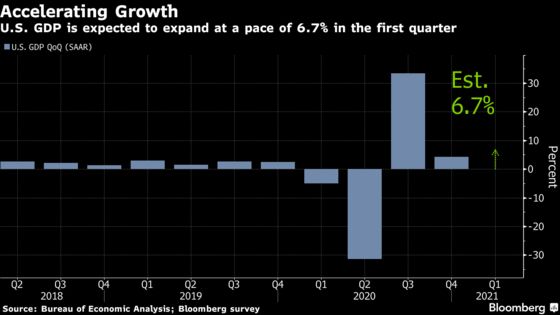 Two separate rounds of stimulus checks and a massive accumulation of savings gave many consumers the income needed to spend freely on goods and newly-reopened services in the January to March period. Meantime, increasing vaccinations offered Americans the chance to re-engage with the economy and gave businesses the confidence to invest in equipment and add more workers.
A slew of positive economic data has invigorated the stock market, which has helped push the S&P 500 to a fresh record high. At the same time, President Joe Biden has proposed in recent weeks even more support for the economy, though it's unclear when and to what extent those policies may be passed by Congress.
"The draw-down of a massive accumulation of savings since the start of the pandemic will bolster consumption, as will sizable wealth effects from rising real estate and equity markets," said Bloomberg economists Yelena Shulyatyeva and Eliza Winger. "Both factors should push output higher and sustain above-trend growth over a longer horizon," they said.
If Bloomberg Economics's estimate for 7% growth in the first quarter is realized, the value of real GDP will have retraced 93% of its pandemic-induced plunge last year. That sets up the economy to reach pre-pandemic output levels in the current quarter.
A still-strong housing market and robust business investment are also poised to support growth in the first quarter print, but those gains will be eroded in part by a drag from net exports and inventories. The value of imports exceeds exports as the U.S. economy stirs back to life faster than many of its trading partners.
Meantime, producers are struggling to replenish inventories amid supply chain bottlenecks and shipping challenges. The rebuilding of those inventories should offer a tailwind to growth in the coming quarters.
Here's what else Bloomberg Economics is expecting:
Bolstered by two waves of fiscal stimulus and a rapid reopening of the economy, Bloomberg Economics estimates personal consumption grew at a 10.5% pace in the first quarter
Business investment remained strong in the first three months of the year, largely due to equipment spending
Residential investment growth likely cooled to a still-strong 14% pace, driven by construction activity
Government spending will rise at a 15% clip, reflecting significant fiscal stimulus
Trade, which has been influenced by a stronger domestic growth than in Europe, is poised to subtract 0.9 percentage point from GDP
Inventories are expected to subtract 1.8 percentage points as producers continued to face severe supply chain challenges
Read Bloomberg Economics' full analysis on the terminal.