Jeep Maker's Pricing Gains Lift Profit Margins Above Target
(Bloomberg) -- Jeep maker Stellantis NV joined U.S. auto peers boasting of stronger-than-expected earnings as the global chip shortage depleted vehicle inventory and drove up prices.
The carmaker formed from the merger of Fiat Chrysler and PSA Group said its adjusted operating income margin during the first half should exceed its 5.5% to 7.5% forecast for the year. While the dearth of semiconductors hurt production, it sold a richer mix of models and cut costs.
Stellantis, which left its full-year profit guidance intact, is holding a strategy event later Thursday where it will give details on investments in electric cars and software. The company is leaning toward building its third European battery plant in Italy, Bloomberg News reported Wednesday. Total investment for the project could be about 1.5 billion euros ($1.8 billion), though talks are ongoing.
"None of it is a surprise," Philippe Houchois, an analyst at Jefferies who rates the shares a buy, said in a note to clients. He estimates Stellantis had 8.6% profit margin in the first half.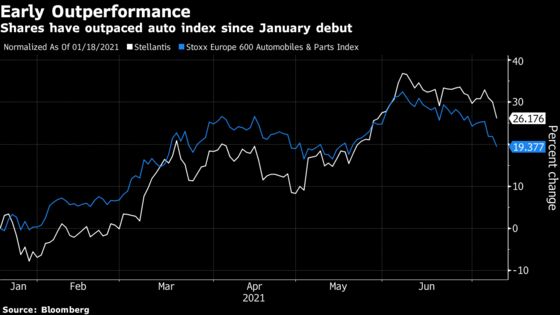 The company did caution that it still sees industrial free cash flow being negative in the first half of the year. The shares fell more than 3% in Paris trading, a bigger drop than the Stoxx Europe 600 Automobiles & Parts Index.
Chief Executive Officer Carlos Tavares faces the tall order of bringing together a sprawling empire of 14 auto brands and shifting them to an electric future. Tavares has mapped out shared underpinnings for making pure electric cars to reduce costs.
The work to glean synergies from the combination is "well on track to exceed the first year target," Stellantis said, and should help result in positive full-year industrial cash flow.
What Bloomberg Intelligence Says

Stellantis pre-released 1H performance figures including an operating margin above the 5.5-7.5% targeted range, which -- though encouraging -- is probably a less-appropriate comparison than 2H20's 8.9% pace, with consensus seeking 7.1% for the full year. Negative free cash was attributable to working capital, taking the shine off the headline result.

-- Michael Dean, BI automotive analyst

Click here to read the report
Last month, Ford Motor Co. said a "breathtaking" rise in prices boosted earnings beyond its dour outlook for the second quarter. General Motors Co. also increased output at two truck plants that make highly profitable heavy-duty pickups, which should enable the company to beat its first-half forecast.