Steelmakers Surge as U.S. Infrastructure Plan Buoys Demand View
(Bloomberg) -- Nucor Corp., the biggest U.S. steelmaker, surged to a record high, leading share gains in producers of the metal after the Senate passed a $550 billion infrastructure bill that's expected to fuel demand.
An S&P gauge of steelmakers and related companies advanced to the highest since August 2008, with Nucor climbing as much as 10% and U.S. Steel Corp. rising more than 7%. Producers of other industrial metals also advanced. Alcoa Corp. rose as much as 8.9% and Freeport-McMoRan Inc. gained 4.9%.
The infrastructure plan that would represent the biggest burst of spending on U.S. public works in decades. The breakthrough vote helped extend this year's rally for steelmakers, which have gained along with prices of the metal on bets that reopening economies and spending to rebuild railroads, highways and bridges will boost demand at a time of tight supplies in some markets.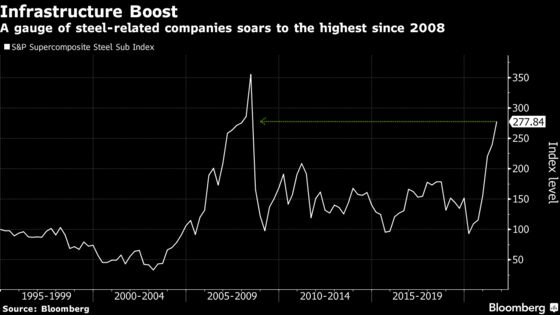 The infrastructure plan will likely increase steel demand by 3 million to 4 million metric tons per year, with two-thirds for long steel products used in construction, Citigroup Inc. analysts including Alexander Hacking said in a note. Utilization rates at U.S. steel mills will also rise, to 80% from the current 75%, according to Hacking.
"The key question is whether current demand will hold given that the various puts and takes of COVID are still playing out," he said.
The bill still faces hurdles in the House, which is scheduled to be on break until Sept. 20.