Outdated U.S. Vaccine Data Risks Squeezing State Use Plans
(Bloomberg) -- States including New York and Nevada used outdated federal estimates showing many more doses of Pfizer Inc.'s vaccine would be available as they planned for the initial inflow of shots, said a spokesperson for the U.S. Department of Health and Human Services.
The estimates given to states in October for planning purposes said there could be 20 million doses of the Pfizer-BioNTech SE vaccine available and 15 million doses of Moderna Inc.'s shot, according to the spokesperson, who asked not to be identified by name in an emailed response to questions.
More recently, federal officials have said that 6.4 million doses of the Pfizer vaccine and 12.5 million doses of the Moderna shots will be available in the first shipments, 68% less than October estimates in Pfizer's case and 17% less for Moderna. A smaller-than-expected initial supply of vaccines could squeeze state plans for distributing the shots at a time when the virus is surging nationwide and hospitals are filling up.
"There has been a lot of confusion," said Claire Hannan, executive director of the nonprofit Association of Immunization Managers, a professional association for officials in states, territories, and cities that works on vaccine-preventable diseases.
With vaccine shipments expected to start as soon as next week, there's still no authoritative public accounting of where does will go, and in what quantity. While some states have independently said the number of doses they expect, federal officials have declined to give out specific numbers.
New York Governor Andrew Cuomo last week said the state expected an initial allocation of 170,000 doses of Pfizer's shot and 40,000 doses of Moderna's vaccine, once the two shots get emergency authorization in the U.S. Nevada said in a statement that it expected to get 91,650 Pfizer shots and 72,500 of Moderna's.
Erin Silk, a spokeswoman for the New York State Department of Health, said the state's projections are based on information received directly from the federal government on Nov. 30. Spokespeople for the Nevada governor's office didn't immediately respond to questions by email, and couldn't be reached by phone.
Also see: States craft vaccine plans in a haze of changing information
An advisory panel for the Centers for Disease Control and Prevention has urged that key health-care workers and nursing home residents be first to receive the shots. Fewer doses than expected could mean longer waits than planned for keeping safe those most at risk.
A Food and Drug Administration advisory panel is set to meet Thursday to review the Pfizer vaccine's safety and effectiveness in a final step before an emergency-use authorization is approved. A decision on Moderna's shot, which is set to be reviewed by FDA advisers next week, could follow soon afterward.
States, territories and some cities placed their first orders for Covid vaccines last week. Officials at Operation Warp Speed, the program set up by the White House to help develop and distribute the vaccines, have said that shots will be allocated in proportion to states' adult population.
In an interview last week, Hannan said states received wide ranges of estimates over time and, by the time they were able to place orders, generally got the low end of that range.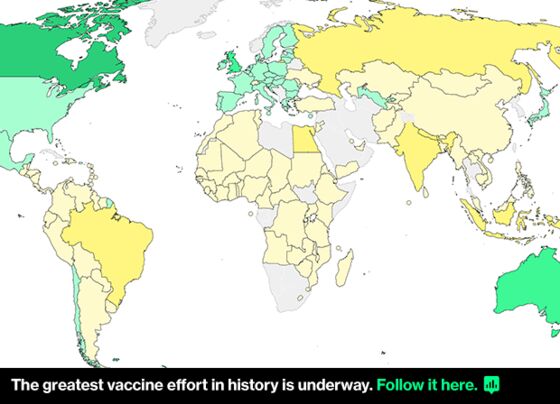 Bloomberg News asked HHS to explain the discrepancy in two states that projected a bigger initial supply of the Pfizer vaccine. It couldn't immediately be determined if other states were also relying on the outdated estimates.
Operation Warp Speed officials have said they plan to ship the first doses immediately after an FDA authorization, with more supplies coming in weekly installments. Cuomo last week said if the shots were authorized, New York State would receive the first shipments of Pfizer's vaccine on Dec. 15.
The HHS spokesperson said in the email that all the estimates given out were for planning purposes only until a state is given an allocation and matching order in the digital system the government uses to allocate the doses, known as Tiberius and VTrcks.
Quantities estimated during planning exercises were labeled with disclaimers that they were for planning purposes only, the spokesperson said.