State Street Says It's Laying Off 1,500 Workers to Cut Costs
(Bloomberg) -- State Street Corp. is dismissing 1,500 employees in a push to cut costs and automate more of its business.
The reduction amounts to about 6 percent of the workforce in high-cost locations, the Boston-based bank said in an earnings statement Friday. That includes 15 percent of senior management. The company had more than 39,000 employees as of the end of September.
Chief Executive Officer Ronald O'Hanley, who took over as CEO this month, is moving swiftly to reorganize the money-management and custody-banking giant after the shares lost more than one-third of their value last year. The reductions are aimed at saving $350 million in 2019, the company said Friday. O'Hanley has said the firm needs to reduce structural costs by 2 percent to 3 percent a year.
"It's clear that we're in an uncertain environment," said O'Hanley in a phone interview. "We're cautious about the immediate term and we're very cautious about our spending."
The shares erased an earlier gain of as much as 8.4 percent. O'Hanley attributed the reversal to the company's weak revenue forecast.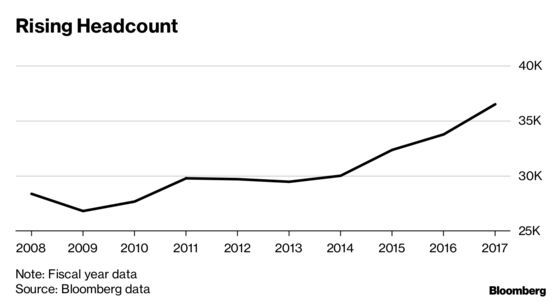 Rocky markets have battered State Street, crimping third-quarter fee revenue and analysts have questioned whether the purchase of a software maker was too costly. But the prospect of cost reductions has pushed the stock up, with State Street rallying 13 percent this year through Jan. 17. That has made it the second-best performer among 18 companies in S&P's index of money managers and custody banks.
BlackRock Inc., the world's largest manager, also announced this month plans to eliminate 3 percent of its workforce, or 500 people, amid changing investor preferences and rising market uncertainty.
Key Takeaways From Today's Earnings

Fourth-quarter operating EPS was $1.68. Estimate: $1.67
Assets under management came in at $2.51 trillion. Estimate: $2.76 trillion
Fourth quarter operating revenue was $2.99 billion. Estimate: $2.96 billion 
See State Street's financial tables released today.