Starts of U.S. Homes Increased Slightly in May, Permits Eased
(Bloomberg) -- U.S. housing starts rose slightly in May and applications to build dropped to a seven-month low, suggesting the pace of residential construction may be moderating after a recent run-up in building-materials costs.
Residential starts rose 3.6% last month to a 1.57 million annualized rate, according to government data released Wednesday. April starts were revised down to 1.52 million. Building permits slipped 3% in May.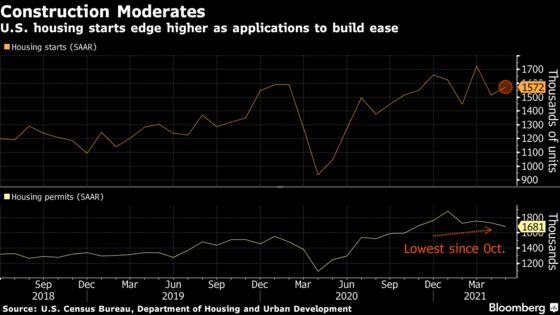 Builders struggled to keep up with robust demand throughout the pandemic, while elevated materials costs and a shortage of qualified workers have challenged developers seeking to ramp up construction.
"We expect housing starts to mostly move sideways over the balance of 2021," Nancy Vanden Houten and Gregory Daco, economists at Oxford Economics, said in a note. "Strong demand, a need for inventory and homebuilder optimism will keep a floor under activity, but builders continue to face supply constraints that may hamper or at least postpone construction."
Limited inventory has sent prices soaring, tempering buyer interest that may allow firms to make progress on growing backlogs.
In a recent survey by the University of Michigan, a record share of consumers reported higher prices as a reason for bad home-buying conditions.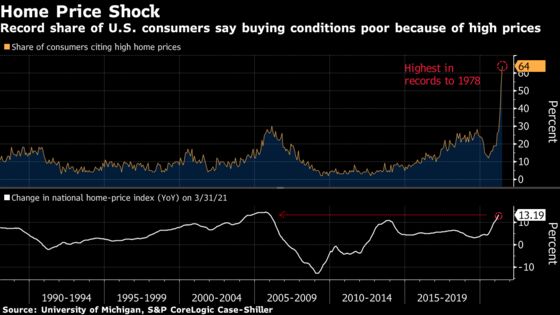 More housing inventory would help mitigate the growth in asking prices and a more recent moderation in lumber prices could spur construction. Further, low borrowing costs are also helping to offset some of the recent surge in home prices.
Officials at the Federal Reserve have shown no indication of raising interest rates in the near future, indicating mortgage rates may remain low for some time.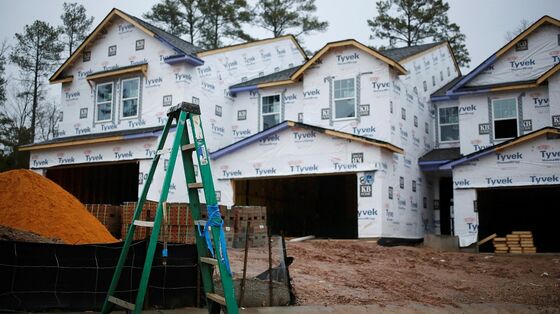 Applications to build, a proxy for future construction, decreased to an annualized 1.68 million units in May, the slowest pace since October. A measure of homebuilder sentiment out Tuesday eased slightly in June but remained well above pre-pandemic levels, suggesting construction starts will remain firm in the coming months.
The data suggest backlogs are continuing to build. The number of one-family homes authorized for construction but not yet started -- a measure of backlogs -- edged up to 142,000 in May, the most since October 2006.
Single-family starts rose 4.2% in May to an annualized pace of almost 1.1 million units
Multifamily starts -- which tend to be volatile and include apartment buildings and condominiums -- increased 2.4% to 474,000
Three of four major regions posted gains in starts, including a 29.9% jump in the Midwest and a 3.8% increase in the South. New construction also rose 1% in the West
Data on sales of new and existing homes will be released next week