Stars Are Aligning to Buy Banks and Sell Utilities: Taking Stock
(Bloomberg) -- Stocks are poised for a higher open (e-minis up ~8 handles to a session high), a day after S&P cash quietly had one of its worst days in weeks, though not a whole lot happened overnight to account for this morning's bounce.
The outlook for trade negotiations remains hazy (China basically saying the ball is in the U.S.'s court to resume talks), the chaos in the White House is swirling over what ultimately happens with Deputy AG Rod Rosenstein (scheduled to meet with Trump on Thursday) and Supreme Court nominee Brett Kavanaugh (said he's "not going anywhere" on Fox last night), Trump is going to lash out at Iran at his 10:15am address to the U.N. General Assembly, and large-cap tech got a bit of a shock after the Instagram founders up and left Facebook (shares down ~3% pre-market) in a reported clash with Zuckerberg.
But one thing to be mindful of is the 10-year yield, which has touched 3.11% (right near the year's peak that was hit in mid-May) and could give a nice lift to the banks today -- and hit the yield-exposed groups like the utilities and the REITs. The same could be said for energy stocks with Brent pushing above $82/bbl to its highest level in four years; note that the S&P 500 Energy index topped all sectors on Monday by a mile on the surge in oil prices.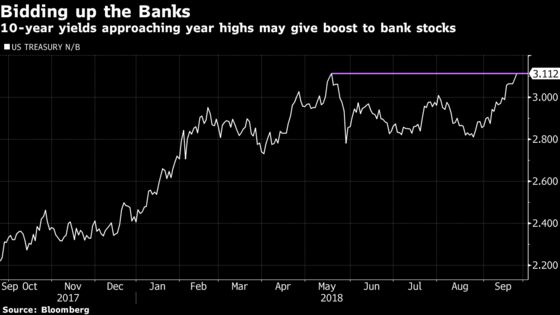 Also watch the pot stocks today, with 1) Tilray bouncing ~9% after issuing a press release touting successful efforts to export medical cannabis to critically ill children in Australia, 2) Aurora Cannabis reporting a 19% month-over-month jump in fourth quarter revenue and medical cannabis gross margins zooming to 74% vs year-ago 28% primarily due to higher average selling price per gram, 3) Benchmark initiating Canopy Growth with a buy and a Street high price target of C$100.
And other sectors in focus include the recent Chinese ADRs who've gone public, in case iQIYI has a sharp reaction given its lockup expiration (shares are up ~44% from its late March IPO), the well servicing subgroup within oil services after the Basic Energy/Key Energy deal ("the deal we've been anticipating for whole career," quips Evercore ISI), and the solar stocks as a major conference kicks off in Anaheim.
Ahead of earnings tonight, we'll be watching these two sectors: 1) the beleaguered homebuilders, where we'll get another batch of pricing data this morning prior to the KB Home print -- note the S15HOME index has sold off >4% since the beginning of last week -- and 2) the athletic & footwear names ahead of results for Nike, which is the top performer in the Dow year-to-date.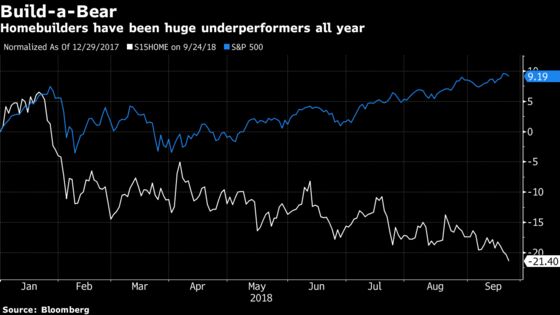 The new S&P 500 Communication Services group had a relatively strong debut on Monday, gaining 0.2% and outperforming all major indices. Three of the five FAANGs now reside in the newly-formed index, and they were among the top gainers on the day (Netflix was atop the board with a 2.3% boost). It would have had an even better overall result had it not been for Comcast's exceptional weakness (at one point, shares were down >8% for their biggest drop in almost a decade), which is tied to the bid for Sky.
The revamped S&P 500 Info Tech sector, meanwhile, staged an impressive bounce off the open and just edged out the Comm. Services group for performance on the day. The semis (AMD up >5% and Micron & Nvidia both up almost 1%) were leaders, as was Salesforce (up 2.1% on the strategic pact with Apple and ahead of its Dreamforce Conference & investor day) and Apple, which is the only member of the FAANG complex that remains in the group.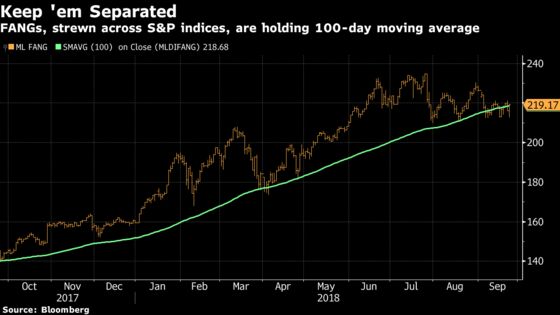 Notes From the Sell Side
There are several big calls on the semiconductors this morning, starting with Raymond James downgrading a whole swath of stocks on cyclical concerns, including Intel to an underperform on mounting headwinds (other cuts are Analog Devices, Microchip, ON Semi, and Monolothic Power while Nvidia remains at an outperform).. elsewhere, Keybanc launched coverage on 10 chip stocks, all at sector weight (including AMD, Intel, Nvidia, Qualcomm), and downgrades Cypress Semi on worries over a slowdown in the auto market, particularly in China.. and BofAML is boosting its target on Nvidia to a Street high $360 after meetings with management.
Nomura Instinet wants to pluralize the FANG acronym to include Square, whose target is lifted to a Street high $125 on its "stellar" 45% expected three-year revenue CAGR.
Jefferies has a 45-page deep dive on Amazon with a SOTP valuation that suggests upside to $3,000 by 2020. Separately, Morgan Stanley suggests Amazon should increase its focus on autonomous driving to compete with Alphabet's Waymo.
An Alcoa bull is calling for an earnings miss -- Credit Suisse expects outperform-rated Alcoa's results to be "negatively impacted by dynamics with higher profitability in the alumina segment and some cost creep in the smelter portfolio"; the firm's 3Q EPS estimate is slashed to 14c from 56c, and now well below the Street average of 77c.
Former Morgan Stanley biotech analyst Andrew Berens has initiated on 10 oncology-focused companies at Leerink Partners, with a bullish outlook on the broader sector, including outperforms on Blueprint Medicines, Seattle Genetics, Loxo Oncology, BeiGene, and Tesaro as well as an underperform on Deciphera.
Tick-by-Tick Guide to Today's Actionable Events
Today -- World Conference on Lung Cancer with data from LOXO, ALDX, PFE, JNJ, AZN
Today -- Solar Power International three-day conference begins
Today -- NVCR hosts briefing on Stellar data
Today -- IPO lockup expiry for IQ, UMRX, GNPX
7:00am -- FDS earnings
8:10am -- BP CEO Bob Dudley on Bloomberg TV
8:30am -- JBL earnings call
9:00am -- FHFA House Price Index, S&P Case-Shiller Home Price Index
10:00am -- Richmond Fed, Conf. Board Consumer Confidence
10:15am -- Trump addresses the U.N. General Assembly
11:30am -- TNDM analyst day
1:30pm -- CRM co-CEO Marc Benioff on Bloomberg TV
4:01pm -- AIR earnings
4:10pm -- KBH earnings
4:15pm -- NKE, CTAS earnings
4:30pm -- API oil inventories
5:00pm -- NKE, KBH earnings call
Tonight -- IPOs expected to price: Arco Platform (ARCE), SVMK (SVMK), Entasis Therapeutics (ETTX), CooTek Cayman (CTK), Capital Bancorp (CBNK)