Starbucks Slides as Outlook Signals Slower Profit Growth
(Bloomberg) -- Starbucks Corp. slumped the most intraday in more than seven months after the coffee chain signaled that its profit growth will start to slow.
The company spooked investors with a presentation that indicated its recent rate of 10% or more profit expansion won't carry into next year. Starbucks said the effect of a tax benefit in 2019 will end in its next fiscal year, which starts in October, and the company will also reduce share buybacks. The stock slid as much as 3.9% to $93.03 in New York trading.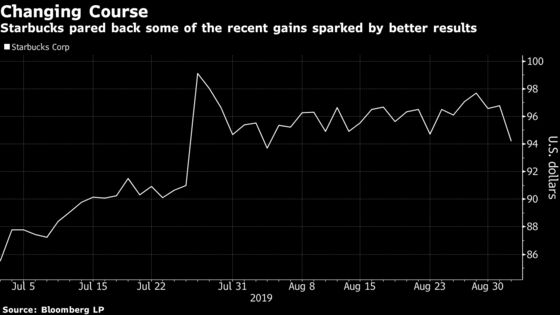 Starbucks said it was "delivering against expectations" and that the company remains confident in its strategy despite the two "non-recurring" factors hampering next year's profit outlook.
"I would say that we're firing on all cylinders from an operating performance perspective, with the focus and discipline necessary to drive growth at scale for a company like Starbucks," Pat Grismer, the company's chief financial officer, said at an investor conference.
Starbucks has made some changes in recent years to revitalize growth, including shuttering locations in U.S. markets that were densely populated with cafes and instead focusing more on suburban markets and expansion in China. In July, the company posted its best quarterly sales growth in three years, boosted by gains in customer traffic and higher prices. It also increased its profit forecast, buoying investors a year after uninspiring results had them questioning the company.
The company's shares had gained more than 50% this year through the close of trading on Tuesday. But that surge may have brought higher expectations from Wall Street.
The company faces steep competition in the U.S., where more premium coffee options have resonated with customers. Its plans in China could be hampered by geopolitical tension and local operators with ambitious expansion plans.