Starbucks's Chinese Rival Markets IPO at Discount to Peers
(Bloomberg) -- Luckin Coffee Inc. quickly grew to become China's second-biggest coffee chain with generous promotions that made its brews much cheaper than Starbucks Corp. Now it's also selling stock at a discount to rivals.
The price range for Luckin's initial public offering values the company at 9 times to 10.2 times the company's estimated 2021 earnings, assuming a so-called greenshoe option is exercised. That's less than half the valuation of Starbucks, which trades at 22.5 times that year's forecast profit.
Luckin also looks cheaper than Dunkin' Brands Group Inc., whose closing price Tuesday translates into 21.3 times on that basis. Gourmet Master Co., which owns the 85°C bakery and cafe chain, is trading at 13.7 times in Taipei, data compiled by Bloomberg show.
The lower valuation could be due to Luckin's short track record -- it only started operations in October 2017. While it had 2,370 stores at the end of March, it's continuing to spend on growth and hasn't yet turned profitable. Luckin made a net loss of 572.8 million yuan ($85 million) for the three months ended March, more than quadruple the same period a year earlier, according to a regulatory filing. Net revenues surged 37-fold to 478.5 million yuan.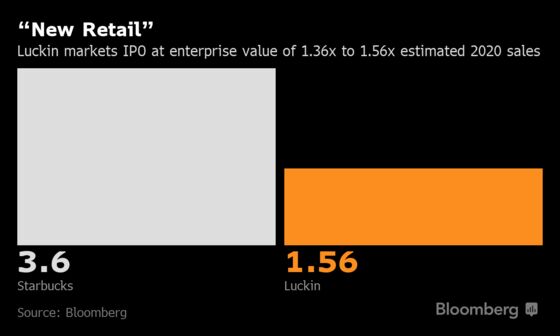 Luckin's IPO price range implies an enterprise value of 1.36 times to 1.56 times its estimated 2020 sales, including the greenshoe option, the deal terms show. It's seeking to raise as much as $510 million from the base offering.
The company operates a cashier-less business, where customers place orders from a mobile app and pay with electronic wallets. Luckin calls it a "technology-driven new retail model," as it gathers customer behavior from the app and relies more on smaller pick-up stores instead of the streetfront locations with expansive seating offered by Starbucks.
Luckin was meeting potential investors in Hong Kong on Tuesday and Wednesday as it started its IPO roadshow. It aims to price the share sale on May 16.
Credit Suisse Group AG, Morgan Stanley, China International Capital Corp. and Haitong International Securities Group Ltd. are leading the deal.