Starbucks Jumps After New Menu Helps Reverse Stagnant U.S. Sales
(Bloomberg) -- Starbucks Corp. broke out of its home-market slump, posting better-than-expected sales in the U.S. that sparked a share rally in late trading.
Comparable sales -- the key gauge of retail performance -- rose 4 percent in the Americas, beating analysts' estimate for a gain of 2.8 percent and far-outpacing the previous quarter's sluggish pace. Sales also beat globally.
Starbucks considers the U.S. and China its most important markets, and it's making progress in both. The chain, which is expanding delivery service in China, saw 1 percent same-store sales growth in the Asia Pacific region last quarter, reversing the previous period's temporary dip.
The world's biggest coffee chain, which rode demand for its Frappuccinos to ubiquity, is shifting to healthier beverages in addition to expanding its food menu. New drinks and food helped drive the company's U.S. comparable sales beat last quarter, Chief Executive Officer Kevin Johnson said in an interview.
Starbucks said it's sharpening its focus on shareholder returns by simplifying the business. It has already moved to restructure in the U.S. and Europe, trimming its bloated payroll. The move, coupled with accelerated share buybacks, may appease shareholders that now include billionaire Bill Ackman.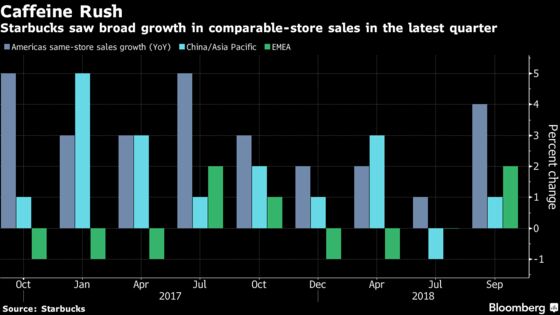 Shares rose as much as 10 percent to $64.48 as of 4:28 p.m. after the end of regular trading in New York. The stock was already up 2.1 percent this year through Thursday's close.
Get more on the results here.
Starbucks sees full-year adjusted earnings at $2.61 to $2.66 a share.