Starbucks Presents a Mixed Bag for Investors in Schultz's Final Lap
(Bloomberg) -- Starbucks Corp., fresh off a spring of tough headlines and uninspiring results, is taking bigger steps to correct course.
The coffee giant will start nationwide delivery in China by the end of the year, and it's also considering a national U.S. television advertising campaign, executives said after the release of quarterly results. The company is taking aim at a persistently soft performance in the afternoons and greater price competition in the key Chinese market.
"We feel encouraged that we are at least on the right track to turn around the business," Chief Operating Officer Roz Brewer said in an interview. "We're seeing most of the growth come from our core coffee products and some of our new items" including tea and cold beverages, she said.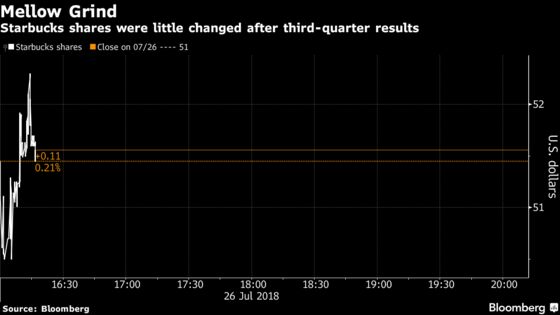 Results were mixed during longtime leader Howard Schultz's final quarter as chairman, with Chinese same-store sales falling 2 percent. Globally, however, comparable sales slightly exceeded expectations, and revenue was higher than anticipated.
Shares rose less than 1 percent to $51.85 at 4:45 p.m. during late trading in New York. The stock has fallen 10 percent this year through Thursday's close.
The results for the fiscal third quarter come after the company in June already tempered Wall Street's expectations, predicting global comparable sales growth of just 1 percent in the quarter, well below the 2.9 percent analysts had been expecting at the time. Starbucks also announced plans to close about 150 company-operated stores in densely penetrated U.S. markets next fiscal year as it refocuses on higher-growth rural and suburban areas, plus overseas.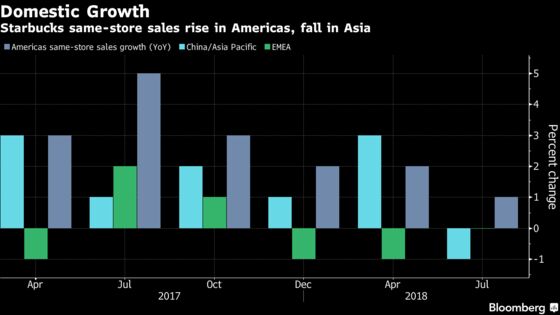 The company has faced a challenging first half of the calendar year. In June, Starbucks announced that Scott Maw plans to retire as chief financial officer -- news that came just days after Schultz, credited with building Starbucks into a global powerhouse, left his post as executive chairman. The coffee chain has started an external search for a new CFO.
Starbucks also faced backlash this spring after two black men were arrested at one of its stores in Philadelphia while waiting for a meeting to begin. The company and Chief Executive Officer Kevin Johnson apologized, calling the arrests "reprehensible." In May, Starbucks closed about 8,000 cafes in the U.S. for an afternoon so its employees could undergo racial-bias training, which did hurt sales in the quarter, Johnson said.
Meanwhile, breakfast competition in the U.S. is heating up. Dunkin' Donuts has been investing to improve mobile ordering and to speed up its kitchens. McDonald's Corp. recently said it's trying to bring more diners in during the morning hours.
The company narrowed its adjusted earnings forecast, predicting adjusted earnings per share of $2.40 and $2.42 this fiscal year. Analysts estimate $2.42 on average.