Starbucks' Mexican Partner Faces Challenging European Expansion
(Bloomberg) -- Mexican restaurant operator Alsea SAB is getting access to new European markets with its expanded Starbucks Corp. partnership, but it may find the region is tough to crack.
That's because Starbucks, which is giving Alsea the license to operate its cafes in countries including France and Netherlands, has already shown it has trouble luring in customers in the region, according to a report by UBS analyst Gustavo Piras. He cited weak results there over the last 12 months. This, coupled with higher wages in the countries, could lead to margins that are considerably lower than what Alsea is used to, he said.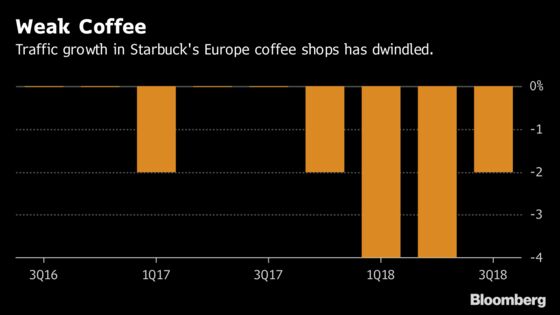 Investors may be signaling their unease with the deal: Alsea's shares are down 3.5 percent in the last two days. The transaction was announced before the start of trading on Thursday.
The restaurant operator, which specializes in bringing U.S. chains such as Domino's and Burger King to Latin America, is under pressure to maintain its meteoric rise of recent years. The company has expanding across South America and established a European foothold in Spain. Mexico City-based Alsea has posted annual sales growth of more than 10 percent for seven consecutive years.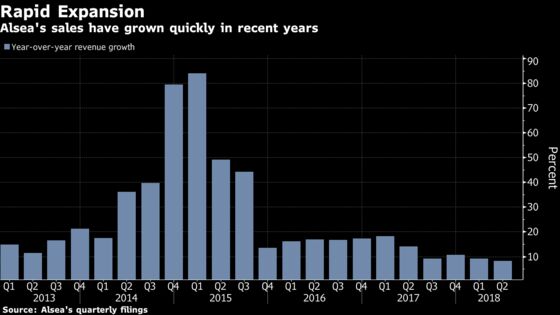 The relationship with Starbucks has been a key driver of that growth: Alsea now operates more than 950 of the coffee giant's restaurants across Latin America.
Grupo Finanicero Monex analyst Veronica Uribe Boyzo agreed that the addition of France, the Netherlands, Belgium and Luxembourg will pressure Alsea's Ebitda margin -- a measure of profitability after excluding interest, taxes, depreciation and amortization. In a research note, she cited Starbucks' 12.5 percent Ebitda margin for Europe, versus Alsea's 16.1 percent margin for the outlets it operates.
Although Starbucks and Alsea didn't elaborate on terms, Monex estimates Alsea might raise additional debt in Euros and increase its leverage ratio to 2.44 times from the current 2.06 times.
To be sure, the transaction could provide diversification for Alsea, Barclays Plc analyst Benjamin Theurer said. It's also proof of the solid relationship between the companies. Alsea already operates Domino's Pizza Inc. and Burger King restaurants in Spain. It also operates a slew of other brands, including P.F. Chang's China Bistro and Chili's Grill & Bar, in Mexico and South America.