Starbucks Gets New Drinks From Lab to Cafe in One-Fifth the Time
(Bloomberg) -- Starbucks Corp. knows customers' tastes are changing faster than ever, and it's hustling to keep up.
The coffee company, which reported comparable sales that topped estimates in its latest quarter, is trying to move new items from the innovation lab to its cafes in weeks instead of months or even years. It's part of the restructuring that the company's undertaking to become more nimble, and so far it's helping, said Chief Executive Officer Kevin Johnson.
"We're trying to do smaller, bite-sized projects. Consumer behavior changes rapidly," he said in an interview Thursday. "We go fast and we learn."
The chain has been under pressure to show it can grow again, especially in its home market. It's been laying off corporate employees, closing some cafes and shaking up its menu in an effort to turn around the business. In October, billionaire activist investor Bill Ackman announced a nearly $900 million stake in Starbucks and said he thinks China could help the chain's underperforming stock double in the next three years.
As part of the renewed focus on speed, Johnson noted that smaller teams of employees are now able to get new drinks into stores in as little as 100 days, whereas before it may have taken as long as 18 months. New items in the chain's line of cold brew and draft coffees, along with its Refreshers teas, helped the company boost fiscal fourth-quarter sales and break out of its home-market slump.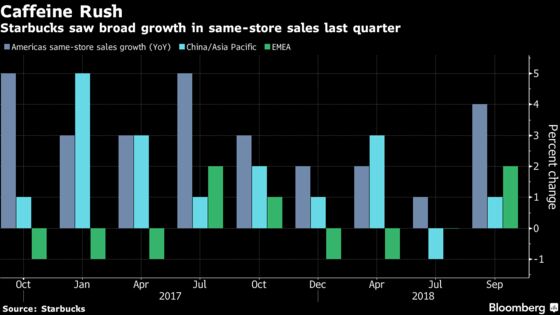 Starbucks shares have gained about 2.1 percent this year, just shy of the 2.5 percent gain in the S&P 500 Index. On Thursday, the stock surged in late trading after the company reported the better-than-expected results.
Johnson has also been shaking up management at Starbucks. In October, the company named former Hyatt Hotels Corp. and Yum! Brands Inc. executive Patrick Grismer as its chief financial officer. The change came just months after longtime visionary leader Howard Schultz stepped down as chairman.
Along with improving the U.S., Starbucks is focused on expanding in China, where it has more than 3,300 locations. While the chain has recently faced weakness there, it's pushing forward with new cafes and a new delivery partnership with Alibaba Group Holding Ltd. Comparable sales in China and Asia Pacific beat estimates last quarter and grew 1 percent.
Starbucks also is trying delivery in the U.S. with a trial in Miami through UberEats. Johnson said the company is working on software for the service, and plans to expand the test.
"We've seen very positive results from our pilot," he said. "I'm optimistic we're going to have a good solution for the U.S. soon."