What Wall Street Is Saying About Starbucks' Results
(Bloomberg) -- Starbucks Corp. is growing faster and Wall Street is taking notice. Goldman Sachs said comparable sales growth of 4 percent in the Americas and 3 percent globally in the fiscal fourth quarter "was more than enough to clear the investor hurdle." Analysts were largely positive on the company's results and many raised their price targets. The shares jumped 12 percent to a record high in their biggest one-day gain since 2009.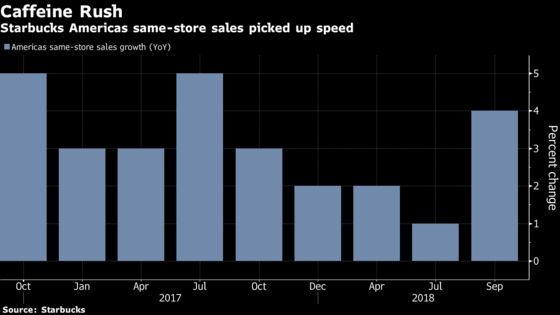 Here's what Wall Street analysts are saying:
Rates buy, price target raised to $76 from $69
There were positive data points in a number of key areas in the quarter, including accelerated member growth in the MSR loyalty program, afternoon day-parts and digital.
Management also "left the door open to additional streamlining or other strategic initiatives."
"Barring any channel checks pointing to sharply lower momentum in the interim, we see room for at least a U.S. stabilization story to gain traction given recent trends."
Wells Fargo, Bonnie Herzog
Rates outperform, price target raised to $66 from $64
Initiatives in the U.S. "including an enhanced in-store experience, stepped-up innovation and better digital engagement, are clearly starting to pay off and should translate into stronger long-term comp. growth."
China comparable sales turned positive in the fourth quarter, sooner than Herzog anticipated. She expects results "to continue to improve" as Starbucks expands its delivery partnership with Alibaba.
The company's fiscal 2019 forecast will likely be "viewed favorably by investors since it is more realistic."
Morgan Stanley, John Glass
Upside surprises to U.S. and China comparable sales and an in-line fiscal 2019 outlook "rebuilds confidence after a challenging 2018."
The fourth-quarter results "didn't prove the business was fixed, but did show that it was stable." Fiscal 2019 is "still a transitional year" but buybacks and spending cuts help provide "greater credibility in the forward EPS outlook than there has been in some time, buying SBUX some time in an increasingly competitive global market place."
"Work still needs to be done on margins and global traffic, which remains negative."
Glass remains at equal-weight on Starbucks, but views the quarter as "a positive data point that increases our optimism for the future." His price target was raised to $64 from $59.
Stifel, Christopher O'Cull
Rates hold, price target $55
"U.S. same-restaurant sales performance is a critical factor for share appreciation, so the 1.0 percent 'beat' should drive shares moderately higher."
That said, the sales gain reflected growth in check, while traffic was negative. With management's indication that the check growth should moderate in fiscal 2019, "we question whether the same-restaurant sales increase is sustainable." Margins were also lower than expected.
Rates neutral, price target raised to $64 from $53
"While we continue to see little risk to near- and medium-term expectations, we also do not expect near-term drivers of positive revisions to materialize."
Earnings beat was primarily due to higher share repurchases, rather than operating margin upside. In-line 2019 forecast is "a positive, given fears" that the U.S. comparable sales growth won't be sustainable. "More consistency quarter-to-quarter is needed."
China comparable sales growth could take off in 2019 with expanded delivery roll-out, but "we remain cautious with respect to the transient nature of both nascent competition and cannibalization from accelerated unit growth."
Bloomberg Intelligence, Jennifer Bartashus
"Fiscal 2019 will be a transition year for Starbucks as the Nestle deal and streamlining efforts for non-core businesses dampen revenue and EPS growth."
The company's strategic plans "will generate momentum in the core business in 2019." Traffic and sales should be aided by the "focus on beverage innovation, the customer experience and digital engagement." China delivery will accelerate and may become "a meaningful contributor to sales the next year."