Standout Ducati Profitability Revives Hope VW Decides to Sell
(Bloomberg) -- Turns out Volkswagen AG Chief Executive Officer Herbert Diess had a point when he touted Ducati as probably the most valuable motorcycle brand in the world.
The Italian maker of luxury two wheelers, which the CEO has said may be sold, trumped all others except cash cow Porsche in terms of first-half profitability, according to figures published Friday by VW's Audi.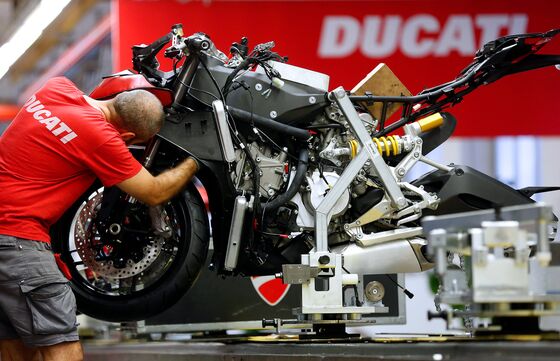 Operating return on sales surged to 9.5 percent from 8.2 percent, even as deliveries declined. That trailed Porsche's 18 percent, but left the other car brands including Audi, Bentley and Skoda in the dust.
Ducati's healthy returns offer a fresh reminder that a diversified product lineup can help balance swings in demand, even if there are few cost synergies with other operations. Diess's boast may also revive hope among investors that VW's asset review announced with much fanfare two years ago might lead to a sale of the bike maker. The car maker hasn't sold any assets so far.
"It would be a strong signal of new style and leadership if VW could finally start unwinding non-core assets," Evercore ISI analyst Arndt Ellinghorst said in a note.
Diess added grist to the mill this week when he told Bloomberg TV that VW will either expand or sell Ducati. "Either we find a way forward for Ducati, which provides some growth" and expand the brand, "or we have to look for a new ownership," he said.
That was in line with comments he made right after taking over the top job at VW in April from Matthias Mueller. Reiterating the point shows Diess is sticking to his guns after deliberations last year to sell the manufacturer failed due to push back from labor unions and the owner family.
"The new Volkswagen group structure aims to develop sustainable future perspectives for non-core businesses - calmly and with the necessary thoroughness," Audi said in an emailed statement on Friday. "This can be expansions and growth strategies, but divestments are conceivable as well," it said.
VW Brand Margins
Porsche continued to lead the pack with 18% return on sales
Ducati's was 9.5%; deliveries fell 7.5 percent to 32,250 bikes
VW's overall op. profit margin rose to 8.2% vs. 7.7%
VW's margin doesn't include highly-profitable Chinese JVs