StanChart Warns of Flat Income in 2021 as Low Rates Take Toll
(Bloomberg) -- Standard Chartered Plc warned the pandemic and low interest rates will weigh on earnings this year, projecting little growth before a recovery in 2022.
Income this year is expected to be in line with 2020, the bank said as it reported adjusted pretax profit slid 40% last year, missing analyst estimates. Credit impairments more than doubled.
"Interest rate reductions that occurred partway through last year will have a rollthrough effect over the balance of this year," Chief Financial Officer Andy Halford said on Bloomberg Television Thursday. "After 2021, then interest rates normalize and we're back to the normal levels of growth that we saw before Covid."
The results, which included a $0.09 dividend and a $254 million share buyback, were underwhelming in comparison to other U.K.-listed lenders, analysts at Citigroup Inc. said in a note. Rival HSBC Holdings Plc said Tuesday it had a "good start to 2021, and we are cautiously optimistic for the year ahead."
Shares were down 4.7% at 9:28 a.m. in London. The shares slid as much as 3.4% in Hong Kong.
"We remain strong and profitable, although returns in 2020 were clearly impacted by higher provisions, reduced economic activity and low interest rates, in each case the result of Covid-19," Chief Executive Officer Bill Winters said in the statement.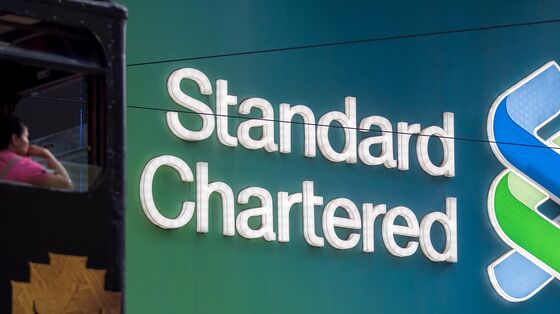 The emerging markets-focused lender has revived cost-cutting efforts that were paused during the pandemic. The bank has in recent months resumed hundreds of job cuts and continues to look for savings.
Further restructuring charges of about $500 million are expected over the next few years, primarily in 2021, "relating predominantly to people and property actions," the lender said.
The bank is looking at how much office space it might trim as the pandemic prompts a re-think on the need for pricey real estate. Currently 75% of its staff are working from home and the lender flagged it could cut its global office footprint by about a third over the next four years.
"There should be quite a significant opportunity to reduce the space that we actually occupy," CFO Halford said on a call with journalists. "Over a four-year period, something like a third, maybe of that order."
Read more on the retreat from workplaces
The lender said adjusted pretax profit fell to $2.51 billion in 2020, below estimates of $2.55 billion. The firm's market operations tracked the volatility-driven surge that has buoyed Wall Street while profits for retail and commercial banking slid.
Profits in China and North Asia, which make up 81% of the bank's overall pretax profit, fell 16% because of higher impairments.
The lender has been forced to push back a target of reaching a 10% return on equity, and now said it expects to a deliver at least a 7% return by 2023.
What Bloomberg Intelligence Says:

The toll that lower rates is taking on Standard Chartered's revenue outlook is clear in its 4Q earnings miss, with growth only expected to re-emerge in 2022 while costs continue to grow this year. A target of "at least" 7% return-on-tangible equity by 2023 is too low for an emerging markets bank, and reflects its excessively high cost base, we believe.

-- Jonathan Tyce, BI banking analyst
The results come as speculation mounts over the future of Winters, who in June will celebrate the sixth anniversary of his appointment as CEO. Simon Cooper, who runs the lender's investment and commercial banking operations, has been tipped as the most likely internal successor, though Chairman Jose Vinals has informally sounded out external candidates for the job.
Winters said on a call with journalists he has no plans to leave yet.
"Don't let the grey hair fool you," Winters said. "I came here to do a job -- the job is not yet done."