StanChart Takes Bullish View on Bad Loans in Second Half
(Bloomberg) -- Standard Chartered Plc delivered earnings that topped estimates and said the worst of its bad-debt charges have passed.
The Asia-focused lender set aside $1.57 billion for potential loan losses in the first six months and said second-half provisions will be lower, even as the pandemic wreaks havoc, according to a statement on Thursday.
"Low interest rates and depressed oil prices continue to be headwinds and we expect new waves of Covid-19 related challenge in the coming quarters, but I am confident that our resilience and client franchise will see us through," said Chief Executive Officer Bill Winters in the statement.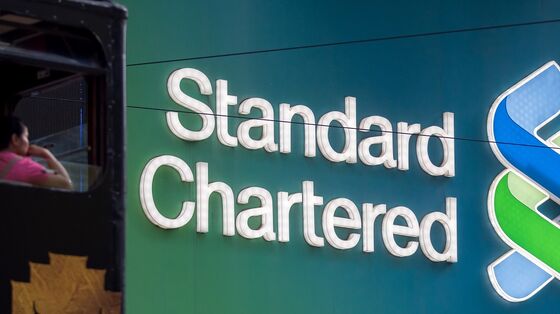 Like its Wall Street rivals, Standard Chartered got a boost from resurgent financial markets, reporting a 35% rise in revenue for the trading division. That helped offset declining earnings from other areas such as transaction banking and wealth management.
Shares in Standard Chartered were little changed in London, up 0.3% at 9 a.m.
The London-based bank, whose largest market is Hong Kong, reported a higher than expected first-half pretax profit of $1.96 billion. It also said income in the second-half is expected to be lower year on year. Analysts at Citigroup Inc. said the results were "considerably ahead" of expectations.
Speaking to reporters on a call, Winters said the biggest risk to a sustained economic rebound is a stalled U.S. recovery. Winters said that despite tensions over the former British colony's future, Hong Kong had seen a "massive inflow" of capital in recent months and called its peg to the U.S. dollar "unassailable."
The bank has embarked on a new round of job cuts, joining rivals such as Deutsche Bank AG and HSBC Holdings Plc in restarting reductions put on hold at the outset of the pandemic, Bloomberg News reported on Wednesday. The firm has drawn up lists of several hundred jobs it plans to eliminate and a cutback program is set to get underway, according to a person familiar with the situation. The company employs about 85,000 people.
Winters said the cuts would be "small" compared to the workforce and that no employee who lost their job as a result of the latest round of cuts "would lose a paycheck in 2020."
Standard Chartered's results come days before HSBC publishes its own half-year figures. Investor attention is focused on how the banks have fared against a backdrop of an increasingly tense standoff between China and the West over issues including a sweeping new security law in Hong Kong.
Any "attempts to undermine Hong Kong I'm afraid it would have some pretty deleterious effects on the financial system more broadly and it's hard to see any policymakers in the world thinking that's a good thing to do anytime but particularly now during the pandemic," said Winters in his interview.