StanChart Signals Return of Payouts as Loan Losses Ease
(Bloomberg) -- Standard Chartered Plc said plans to hit a key return target had been set back "a couple of years" even as the emerging markets-focused bank reported an easing in loan losses and a rebound in its core Asian business in the third quarter.
The London-headquartered lender said it hoped to pay a dividend next year, joining rivals like HSBC Holdings Plc in calling for an end to a hiatus that began in March after British regulators ordered major U.K. banks to cease shareholder payouts.
Consensus-beating results saw adjusted pretax profit drop 40% to $745 million, ahead of a forecast $502 million. That wasn't enough to prevent its shares falling as much as 5.9% in London, with analysts noting higher-than-expected costs. By contrast, shares in British lender Lloyds Banking Group Plc rose 4.5% after reporting results Thursday.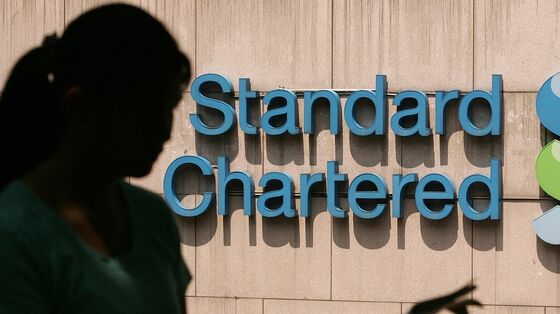 Standard Chartered's Chief Financial Officer Andy Halford said the bank needed to improve returns, but that the goal of achieving a 10% return on equity had been pushed back by the pandemic.
"Covid has put us back a couple of years," Halford said on a call with bank analysts. "We need to get there."
Returns have been depressed by an excess of capital and a surplus of what one analyst said were "worthless" deposits, though these have strengthened the balance sheet despite a global pandemic.
Payouts were halted earlier this year after pressure from regulators, causing Standard Chartered to build up an excess of capital equivalent to 77% of its market value, which currently stands at just over 11 billion pounds ($14.3 billion), according to analysts at Jefferies.
"We have no intention of sitting on excess capital for the sake of it," Halford said in an interview with Bloomberg Television.
Earnings were boosted by a fall in impairments, which dropped for the second quarter in a row. The credit-driven beat came against a backdrop of rising coronavirus infections and tougher lockdowns that's adding to investor worries about the economic hit from the pandemic.
"Investors remain wary of bank shares and the only reason to buy would be for the dividends," said Alex Wong, director of asset management at Ample Capital Ltd., noting any payout will likely be kept at low levels. Bank earnings "will continue to be weighed by the economy and low interest rates, and the expectations that the pandemic will last for a while in regions outside Asia will further cloud their outlook.
| Other key Figures | 3q 2020 | 3q 2019 |
| --- | --- | --- |
| Adj Operating Income | $3.52b | $3.98b |
| Net Income | $161m | $772m |
| CET1 | 14.4% | 13.5% |
Earnings from the firm's investment banking operations tracked the volatility-driven surge that has buoyed Wall Street and its profits in Asia were steady from a year earlier. It's the third straight quarter where the London-based, emerging-market focused bank has surpassed analysts' estimates.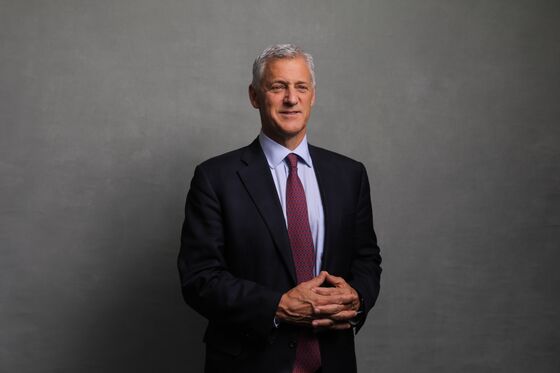 "Our transformation is allowing us to weather the macroeconomic storm in good shape," Chief Executive Officer Bill Winters said in the statement. "We believe we are well provided against credit impairment."
Winters has been based in Asia for the past three months to be closer to the bank's main businesses. Asked about the lender's returns, he defended the company's strategy and its focus on investing billions of dollars in building its digital banking services.
"The strategy is working and one day the stock market will realize that and we'll all be happy campers," he said on a call with analysts. "We've thrown a lot of assets at digital and shareholders are quite rightly asking: where's the meat?"
"I think we can get to the point where the profitability of the digital bank is converging into the main bank, but it will take a while," said Winters.
The lender also said credit costs will likely be lower in the second half of this year than in the first six months of 2020.
The bank's financial markets unit reported a 4% gain in operating income in the quarter. Its businesses in China and the rest of Asia held steady, while profits plunged for its units in Africa, Europe, the Middle East and the Americas.
Asian economies' success in containing the virus has enabled daily life and business activity to return toward normal at a pace that may be months away in Western countries with France and Germany reimposing lockdowns.
Like HSBC, Standard Chartered's business is heavily weighted towards Asia and greater China in particular. With U.S.-China tensions rising in the last year, the geopolitical backdrop for the banks has become increasingly perilous.
CFO Halford said the lender was not becoming more uncomfortable operating in China but admitted it was "becoming watchful."
"We still believe that the huge growth potential is in that part of the world over the next decade," he said. "We will remain very, very committed to the area."