StanChart Plans $1 Billion Buyback After Two-Decade Wait
Standard Chartered Plc is buying back ordinary shares for the first time in more than 20 years as Chief Executive Officer Bill Winters seeks to put misconduct and profitability woes behind the Asia-focused lender.
The $1 billion purchase plan comes weeks after a settlement between the bank and U.S. regulators over its repeated violations of sanctions with Iran. Standard Chartered also on Tuesday delivered its latest quarterly results, which put it on course to deliver its key targets for shareholders. The shares jumped as much as 6.1 percent during morning trading in London, the most since October.
"The resolution of our legacy conduct and control issues means we can now manage our capital position more dynamically," Winters said in the statement. Chief Financial Officer Andy Halford told journalists that the bank is "done" with legal expenses for the time being.
Winters has been fighting a near-constant stream of misconduct issues old and new in his four-year tenure at the lender, which operates in more than 60 markets including Angola, Indonesia and Hong Kong. The scandals have overshadowed his efforts to turn around the bank and weighed on the shares, which have fallen by about a third since he took the helm in mid-2015.
He has also been under pressure to cut costs at the bank and the latest results showed a 2 percent drop in operating expenses to $2.4 billion, the lowest quarterly figure in two years. The lender also said that income had risen faster than costs in the first three months of the year, achieving so-called positive jaws. Standard Chartered also said it would "invest significantly" in its business with a focus on its digital services.
"We're funding that as we go through, fundamentally changing the bank, opening up new digital operations in different countries," said Halford during a Bloomberg TV interview.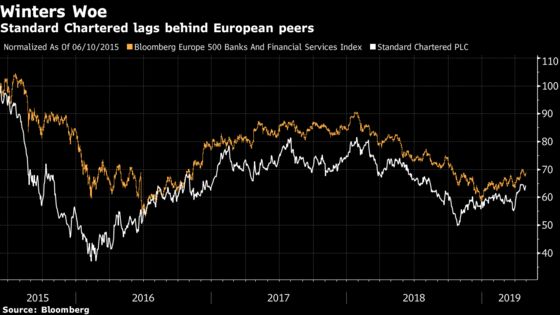 Standard Chartered said its first-quarter return on tangible equity, a key measure of financial performance, was 9.6 percent. It reiterated its target of a 10 percent return by 2021, a goal that's been met with skepticism. Analysts have questioned the bank's ability to hit the figure as it attempts to grow income while keeping a lid on costs. The lender also aims to double its dividend per share by 2021.
The group's "exposure to relatively high growth emerging markets positions" bodes "well to deliver on its medium-term return on tangible equity target," said Shore Capital analyst Gary Greenwood. "We also see scope for significant earnings and value accretion from the return of surplus capital to shareholders in due course."
The buyback program may cause Standard Chartered's Tier 1 capital ratio, a measure of financial strength, to fall 35 basis points in the second quarter. Standard Chartered aims to keep the ratio, which stood at 13.9 percent on March 31, at 13 percent to 14 percent.
Standard Chartered's Key Results
Adjusted pretax profit for the first quarter rose 10 percent to $1.38 billion, higher than the $1.1 billion adjusted pretax profit forecast from analysts including UBS Group AG
Operating income dropped 1.5 percent to $3.81 billion

Corporate and institutional banking income rose 3 percent year-on-year, while retail banking declined 6 percent

Bank says it's "encouraged" by the progress it has seen already