StanChart Chairman Sounds Out Bankers to Replace CEO Winters
Standard Chartered Plc Chairman Jose Vinals informally approached banking executives this year to gauge their interest in replacing Bill Winters.
Vinals has been assessing interest from potential candidates from firms in southeast Asia, Britain and continental Europe, according to people familiar with the plans who asked not to be identified. His search is not currently part of any formal selection process, the people said.
Winters had a public spat with investors last year after some opposed the bank's compensation policy, saying that shareholders' criticism of his pension award was "immature." While Standard Chartered eventually cut his retirement allowance, the chairman was not happy with Winters's public handling of the situation, some of the people said.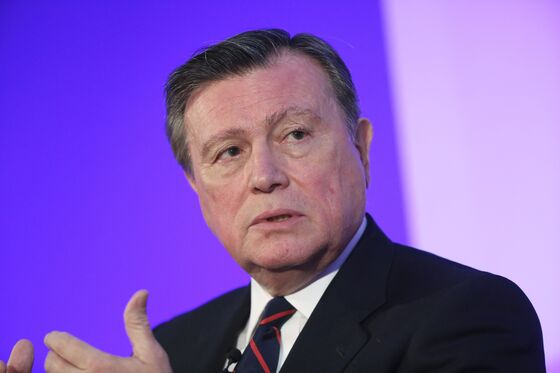 The Asia-focused lender said in a statement to Bloomberg News that the chairman and the board would like to keep Winters in the role for "as long as possible," and that he has no plans to leave.
"Succession planning for the senior management team has been ongoing since the chairman joined in late 2016," according to the statement. It "has included meetings with potential candidates and recruitment firms, along with development of internal candidates."
The move by Standard Chartered's chairman comes as his counterparts across Europe are getting more active in their attempts to seek change at the top. The former Credit Suisse Group AG boss Tidjane Thiam, who was caught up in a spying scandal, left the bank last month after a boardroom showdown precipitated by Chairman Urs Rohner. HSBC Holdings Plc Chairman Mark Tucker ousted previous chief John Flint last year in a bid to revive growth at the lender.
Winters has dismissed speculation he's leaving in the near term. The banker said that a report in the Financial Times newspaper about his future was not accurate. "I don't know who the colleagues are saying that I've checked out, but they're certainly not close to me," he told Bloomberg News last week.
Managing the pool of internal CEO candidates is part of Winters's responsibility. "Upon my arrival, we significantly stepped up the rigor of the succession planning," he told Bloomberg. "If you are on the succession plan, you are told. My specific objective is to tee up the succession candidates."
Unlike Vinals, 65, who comes from a central banking and public policy background, 58-year-old Winters's career has mostly been spent in financial markets, where he made his name co-heading JPMorgan Chase & Co.'s investment bank from London.
Winters has spent almost five years leading the lender, which has been beset with conduct issues and a 45% decline in the share price since he took over. After initial concerns about the effectiveness of his turnaround strategy, a recent run of steady results have somewhat calmed fears the former investment banker was failing to get to grips with the bank's bloated cost base.
In April 2019, Britain's financial watchdog fined the lender 102 million pounds ($130 million) for "serious and sustained shortcomings" in its client due diligence and monitoring, including in the United Arab Emirates between 2009 and 2014.
That was part of a $1.1 billion settlement with U.S. and U.K. regulators that also took Standard Chartered to task over its handling of transactions that violated sanctions against Iran and other countries.
Shares pared their gains to trade 0.4% higher at 11:45 a.m. in London.