Stamps.com Wipes Off 50% of Market Cap as Key USPS Deal Ends
(Bloomberg) -- Stamps.com Inc. investors had a rude awakening as the company said it would end its exclusive partnership with the U.S. Postal Service, and highlighted increasing threat from Amazon.com Inc's aggressive moves into shipping services.
Shares of Stamps dropped as much as 58 percent on Friday in New York, touching their lowest since August 2016 and wiping off $2 billion in market value. The company's commentary about aggressive pricing tactics employed by bigger rivals -- as well as new challenges from Amazon -- also weighed on shares of United Parcel Service Inc. and FedEx Corp. UPS dropped as much as 3.5 percent, while FedEx fell 3.4 percent.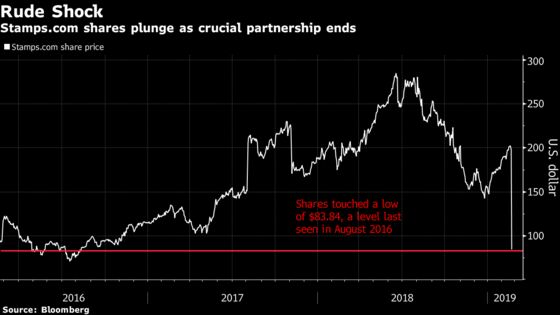 At least two analysts cut their ratings, saying the strategy shift will be "painful" and will hurt growth over the near to medium term. While the practice of selling print-at-home USPS postage at a discounted rate had been called a "scheme" by critics, many on Wall Street didn't expect to see the company sacrifice what B Riley FBR called "a lucrative revenue stream."
"The 'eventual potential' became an actual last night," Craig-Hallum analyst George Sutton wrote in a note to clients. "Eventually, we all knew something would have to give. We did not expect it to be now."
Read more: Stamp Reseller Defies Naysayers With Another Year of Growth
The shipping industry is undergoing transformative changes, Stamps said during a conference call with analysts Thursday, noting that rivals UPS and FedEx have introduced aggressively priced programs targeted at Stamps' e-commerce customers. "And of course the most significant driver of the e-commerce package business is Amazon," Chief Executive Kenneth McBride said during the call. "Amazon's track record of disrupting an industry is well-established. So their threat should be taken very seriously."
Small retailers are among the biggest customers for Stamps and they need more options than just an exclusive agreement with USPS as the market evolves, McBride said. "When our customers are offered services such as shipping with Amazon, FedEx One Rate, UPS's new products, regional carriers, Uber shipping, ship from store and everything else, we have to bring those solutions to our customers," he explained.
"While in the short-term Stamps has taken steps to reduce the lost revenue burden by charging its NSA clients a software surcharge, in our opinion it will take heavy investment in order to re-establish new deals with strategic carriers in order to restore growth over the long-term," Roth Capital Partners analyst Darren Aftahi wrote in a research note.
He downgraded the stock to sell from buy and slashed his price target to $78 from $260, saying that Stamps "has shifted from a growth company and stock to one that is growth challenged."