Restaurants May Remain Starved for Workers Even as Jobless Perks End
(Bloomberg) -- Sweetened U.S. unemployment benefits are winding down, fueling hopes among restaurants that the employees who left the workforce during the pandemic will start coming back. There's unlikely to be a stampede, however. 
While companies are dangling higher wages, sign-on bonuses and other perks to entice new hires, their efforts are being outweighed by renewed Covid-19 concerns as the delta variant spreads. Other difficulties include a persistent lack of child-care options for parents and the industry's less-than-stellar reputation among workers. 
"Restaurant operators will be challenged to staff up even as the enhanced unemployment moves off the table," said Donna Hood Crecca, a principal at Technomic, an industry consulting and research firm. The dining industry is still seen as offering low pay, high stress and insufficient benefits, Crecca said.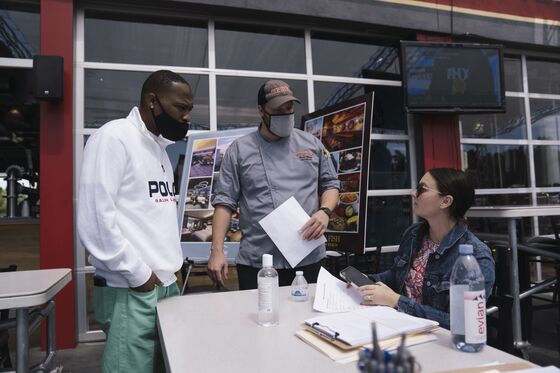 Higher unemployment pay that includes an extra $300 per week from the federal government is poised to stop around Sept. 6, marking an end to the pandemic-era benefit. About two dozen states halted these benefits earlier.
"I think people changed their lifestyle a bit during the pandemic," said Jill Waite, chief human resources officer for Portillo's Hot Dogs Inc. Add in stimulus payments, and "there's a subset of people that have maybe decided to no longer work for a while. Maybe that's to stay home with children or explore other things."
The chain of more than 60 locations hasn't seen a big difference in applicants in states that ended the benefits early, including Florida and Arizona, she said. "We saw an initial pop that first week, but nothing significant that would say everyone is back to work. We're not anticipating seeing a big jump," Waite said. The company's average hourly wage is $14.40.
Laura Rea Dickey, chief executive officer of Dickey's Barbecue Restaurants, said a number of workers have left the industry for good, with some opting to go back to school. Uncertainty around child care is keeping many parents on the sidelines, she said, labeling the issue as "the single most underreported challenge."
As school districts start offering in-person classes, there's still uncertainty for children under 12 who aren't vaccinated. While regular classes allow parents more flexibility to work, they also are expecting periodic quarantines and more remote learning as schools experience new outbreaks and Covid cases rise. 
Dallas-based Dickey's is having trouble attracting enough workers despite paying more than $11 an hour on average -- the most it has ever offered. A lack of prep cooks means that some locations are selling out of brisket that has to be smoked the night before, which means the company is missing out on potential sales.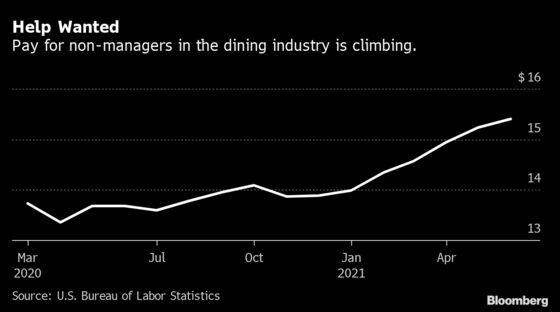 Average wages for non-managers in the dining industry have climbed to nearly $15.41 an hour as of June, up from $13.74 in March 2020, Bureau of Labor Statistics data show. But there's still a dearth of staff, and as of July, the nation's restaurant workforce is about a million below what it was pre-Covid.
This is keeping Denny's Corp. from operating many of its restaurants 24 hours a day like it did before Covid. Only about 40% of its locations are open all the time, and the company is banking on a return of cooks and servers to help it regain lost sales. But it's slow going: In June, Denny's had said it would hire 20,000 additional staff, but it got just 13,000 applications in a weeklong nationwide hiring blitz. The company says it's since received 17,000 more.
"While the discontinuation of enhanced unemployment benefits will not create an immediate urgency for people to return to the market, it will be part of a larger, gradual shift," CEO John Miller said in a statement. "Denny's believes that staffing challenges are temporary and will abate this year."
"I think it's going to be a trickling of employment coming back to work in September and October," said BTIG LLC analyst Peter Saleh. "I don't think its going to be like the opening of the floodgates on labor and a massive return. I don't think we'll be normal by the end of the year."