N.Y. Infections Rise; French Protest as Cases Jump: Virus Update
(Bloomberg) -- Tens of thousands of people took to the streets of France to protest mandatory vaccination plans, with Covid-19 case numbers accelerating to a two-month high as the European holiday season gets into full swing.
In the U.K., the country's health secretary recovered from Covid, while ministers were reportedly drawing up plans to force people to be fully vaccinated before they can attend mass sports and music events.
In the U.S., the Justice Department has decided not to investigate New York State's handling of infections in its nursing homes. New cases in the state have picked up to the highest level in two months, while California's intensive-care unit bed availability fell to a five-month low.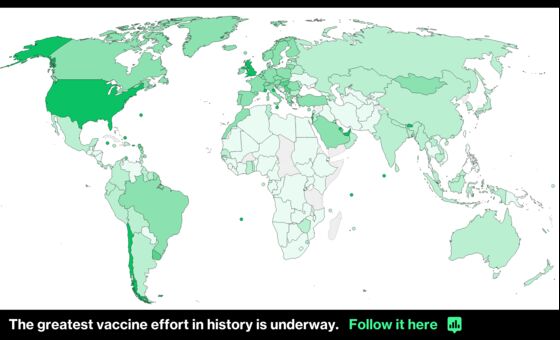 U.K. May Push for Double-Vaccination to Watch Events (5 p.m. NY)
Anyone wanting to attend a Premier League soccer match, a major concert or a mass event of at least 20,000 people from Oct. 1 will have to show they are fully vaccinated, the Sunday Telegraph reported.
The government is also set to ramp up a social media campaign targeted at 18- to 30-year-olds with the aim of linking inoculations with the idea of going on vacation, the report said.
California's ICU Availability at 5-Month Low (4:50 p.m. NY)
California's intensive-care unit bed availability fell to a five-month low as hospitalizations edged higher with more infections.
The number of ICU beds available dropped by 89 to 1,977. That's still twice the number compared with the peak of the pandemic in January. The positive test rate rose to 5.2%, one of the highest levels since February.
The state added 7,984 new cases, bringing the total to almost 3.8 million, while deaths rose by 46 to 63,741. A total of 43.4 million vaccines were administered.
French Covid Infections Jump to Highest Since May (3:44 p.m. NY)
The number of cases in France climbed to more than 25,500, the highest total since early May.
The past week has shown that infections are spread broadly across the nation with coastal regions now being hit hard because of the summer holidays, according to Laetitia Huiart, scientific director of the French public health agency.
N.Y. Cases and Positive Rates at Two-Month High (1:30 p.m. NY)
New York state's new infections neared 2,000 for the second consecutive day, with cases roughly tripling over the last two weeks. The 1,846 cases reported on Saturday by Governor Andrew Cuomo were the highest since May, with the positive test rate increasing to 1.86%, also the highest since then.
Hospitalizations were at 494, a number that has also been ticking up in recent weeks. The state reported just one death.
New York City Mayor Bill de Blasio says that more vaccines, rather than a renewed mask mandate or other restrictions, are the way to combat the new spread, though the pace of inoculation has slowed in the city and state.
U.K. Health Minister Recovers From Illness (1:20 p.m. NY)
Health Secretary Sajid Javid said he has fully recovered from Covid-19, a week after his positive test caused a minor crisis in the U.K. government and forced Boris Johnson to self-isolate just as the prime minister was set to announce measures lifting restrictions in England.
Opposition politicians seized on his comment that people should no longer "cower" from the coronavirus, with the Labour Party's justice spokesman David Lammy accusing him of having insulted those who followed the government's rules to protect others.
Thousands Protest Across France (12:42 p.m. NY)
Tens of thousands of people demonstrated throughout France against mandatory vaccination for health workers and the implementation of a sanitary pass to bar people going to the cinema, sports venues and shopping malls or taking long-distance transportation if they haven't been inoculated, Agence France-Presse reported.
The Interior Ministry said more than 160,000 people were protesting, more than the 110,000 who took to the streets last Saturday.
Iceland Brings Back Some Restrictions (7:33 a.m. NY)
Only a month after Iceland's government removed all Covid related limitations, local authorities will now limit gatherings as of Sunday July 25, due to a surge in new infections, the government said in a web statement dated July 23. Gatherings will generally be limited to 200 people and social distancing rules will take effect again. "The regulation will be in place for a short period of time while the large increase in infections in recent days are being addressed," it said.
U.K. Faces $6.3 Billion Hit From Pingdemic, CEBR Says (6:15 a.m. NY)
The U.K. economy could face a loss of more than 4.6 billion pounds ($6.3 billion) in just four weeks if rules on self-isolation following a "ping" from the NHS app aren't relaxed, according to data from Centre for Economics and Business Research.
Russia Says Unvaccinated Workers Can Be Suspended (4:30 p.m. HK)
Russia's Ministry of Labor, together with the public health regulator
Rospotrebnadzor, recommended that employers be allowed to suspend employees without pay for refusing to get vaccinated, except for medical reasons. The recommendations say an employer can allow an unvaccinated employee to work remotely. They also clarify that herd immunity at a company means that 80% of employees either have been vaccinated or had Covid.
Over the past day, 23,947 cases of Covid-19 have been confirmed in Russia and 799 deaths.
Curfew Extended in Philippine Capital Region (4:22 p.m. HK)
The Metropolitan Manila Development Authority has extended the Philippine capital region's curfew from 10 p.m. to 4 a.m. starting July 25 due to the threat of the more transmissible delta variant, CNN Philippines reported. Currently, the curfew starts midnight and ends at 4 a.m.
The Philippines recorded 6,216 new coronavirus cases on Saturday, bringing the total confirmed cases to more than 1.5 million since the pandemic began. Covid-19 deaths rose by 241.
Dozens Arrested in Anti-Lockdown Protests in Australia (4:03 p.m. HK)
More than 50 people were arrested and being charged with offenses after anti-lockdown protesters clashed with police in Sydney. Demonstrations in cities across Australia attracted several thousand people Saturday, who defied orders to remain at home and to wear masks outdoors.
Tunisia Reports Record Level of Deaths (3:35 p.m. HK)
Tunisia reported today 317 deaths from the coronavirus, a new daily record, according to the data of Health Ministry. The country reported 5,624 new cases.
Hong Kong Said to Delay Antibody Tests to Cut Quarantine (2:50 p.m. HK)
Hong Kong will postpone for at least two weeks a plan to start antibody testing at the airport for fully vaccinated people arriving from some areas, people familiar with the matter said, a setback in easing one of the strictest quarantine restrictions in the world.
The delay in the second phase of its antibody-testing plan was a result of rising infections overseas sparked by the delta variant, the people said. There's no definite timeline for introducing the tests.
Hong Kong has faced criticism from its expatriate community and business people from some countries who are required to quarantine at a hotel for two weeks at their own expense and undergo multiple tests when arriving in the city, even if they are fully vaccinated.
Astra Mulls Vaccine Imports to SE Asia as Thai Supply Hit (2:36 p.m. HK)
AstraZeneca Plc is planning to import Covid-19 vaccines to Southeast Asia as its only manufacturing facility in the region struggles to ramp up output to meet demand from countries hit hard by the delta variant. The drugmaker is scouring more than 20 supply chains in its global manufacturing network to find additional vaccines for Southeast Asia, including Thailand, James Teague, managing director for AstraZeneca Thailand, said in an open letter Saturday.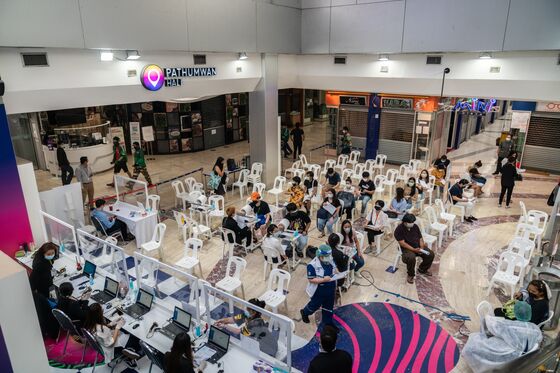 "A global supply crunch for Covid-19 vaccines and shortages of the materials and components required to produce the vaccine, make it difficult to provide certainty today, but we are hopeful of importing additional doses in the months ahead," Teague said.
Anger is growing against Prime Minister Prayuth Chan-ocha's government as Thailand struggles with a record wave of infections and a shortage of available vaccines. AstraZeneca's inability to scale up production has contributed to the slow vaccination rate in countries including Thailand, the Philippines and Vietnam, which are in line to receive shots made by its Thai partner Siam Bioscience Plc, a company linked to the Thai monarchy. Thailand has said it's in talks to procure additional vaccines from companies including China's Sinovac Biotech Ltd. to fill the supply gap.
Jakarta Study Shows Lower Post-Vaccine Mortality Rate (12:17 p.m. HK)
The Covid-19 mortality rate is lower among fully inoculated residents of Jakarta, where 78% of the population has received at least one vaccine dose, the government said.
In a study conducted Jan. 12-July 9, almost 17,000 out of a total of 5.16 million people under observation got infected despite receiving at least their first jab, the Information Ministry said on Twitter late Friday. Of the approximately 15,000 who had received just one shot, about 50 people died. Among almost 2,000 fully vaccinated people who got infected, only four died from the disease, showing a case fatality rate of 0.21%.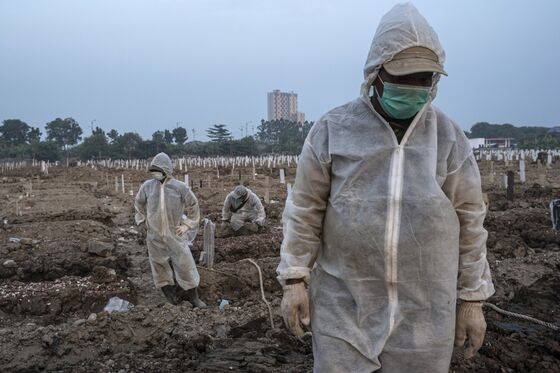 "Vaccines are effective in bringing down fatality rates," the ministry said. "The assessment also shows that vaccinated population has smaller chance of getting infected."
The study compares with health ministry data that showed the weekly Covid-19 death rate in the city of 10 million people fell to 0.61% in the second week of July from 0.96% a month earlier, and 2.78% in mid-May. Indonesia is mostly using vaccines made by China's Sinovac Biotech Ltd.
Vulnerable People May Need Booster Shot: NYT (11:59 a.m. HK)
U.S. government health officials increasingly think vulnerable people will need Covid-19 vaccine booster shots, the New York Times reported, without saying where it got the information.
People who are 65 and older or who have issues with their immune systems most likely will require a third shot of the Pfizer-BioNTech or Moderna vaccine, according to the newspaper. That came just a few weeks after the administration said there wasn't sufficient evidence to back booster shots, the newspaper reported.
S. Korea Extra Budget Includes Handouts for Households (11:44 a.m. HK)
South Korea passed its sixth extra budget of the pandemic, seeking to shore up the economy as the country's worst virus wave so far shows little sign of abating. The 34.9 trillion-won ($30.3 billion) spending plan approved by lawmakers early Saturday includes a 250,000-won cash handout for most people, blunting the economic damage from a semi-lockdown affecting half the population.
About 11 trillion won will be used for handouts to lower-earning households, while 12.6 trillion won will be funneled to support regional economies and 5.3 trillion won will go toward compensating small businesses that suffered from pandemic restrictions. The government will set aside 4.9 trillion won for vaccination and to boost quarantine measures, and will use 2.5 trillion won to support jobs, including vocational training.
U.S. Weekly Cases Surge (10 a.m. HK)
The U.S. had its worst Covid week in three months, as weekly cases surged fourfold to 347,784 from a month earlier with the spread of the highly contagious delta variant.
Florida made up about one in five cases as the number of infections rose to 73,199 from 45,584 for the week ending Thursday, after almost doubling in the previous seven days. Along with Texas and Missouri, the three states accounted for 40% of cases this week.
Texas hospitals have started to run low on beds for the sickest virus patients as caseloads climb. Almost half of the state's so-called trauma service areas have 10 or fewer intensive-care beds available, and one zone has zero, state health department figures showed. Texas recorded more than 5,000 new virus cases in the past 24 hours and hospitalizations swelled for the 21st consecutive day, state data showed.
An increase in cases and hospitalizations in Missouri prompted St. Louis to require masks in indoor public places, regardless of vaccination status, mirroring a similar order already in place in Los Angeles. The state of Louisiana, where infections are rising at the fastest pace in the U.S., is recommending face coverings indoors if people can't be six feet apart.
U.S. Won't Probe New York Nursing Home Deaths (9:43 a.m. HK)
The U.S. Justice Department has decided not to investigate New York State's handling of Covid infections in its nursing homes, the department said in a letter Friday to a Republican opponent of Governor Andrew Cuomo.
Deputy Assistant General Joe Gaeta wrote to Representative Lee Zeldin that the department's Civil Rights Division had asked for information from the Cuomo administration last August. Based on its findings, the department decided not to open an "investigation of any public nursing facility within New York at this time," Gaeta said.
Critics say the Cuomo administration forced nursing homes to take coronavirus patients from hospitals and undercounted deaths to make the state look more successful. A report released in January by Attorney General Letitia James found that "a larger number of nursing home residents died from Covid-19 than the New York State Department of Health's published nursing home data reflected and may have been undercounted by as much as 50%."
Zeldin criticized the Justice Department's decision. The New York State Assembly has been conducting its own inquiry into allegations that the administration undercounted virus deaths at nursing homes.
Australia Vaccine Plan Aims to Avoid Lockdowns (9:03 a.m. HK)
Australia plans to set new vaccination targets that would allow the country to respond to future Covid-19 outbreaks without the need for lockdowns, according to Prime Minister Scott Morrison.
The government will set the targets in coming weeks, Morrison said in a speech Saturday. When Australia moves to a second stage of its vaccination program, lockdowns would occur only "in extreme circumstances," and would not be implemented at all once the nation progress to a third stage, he said.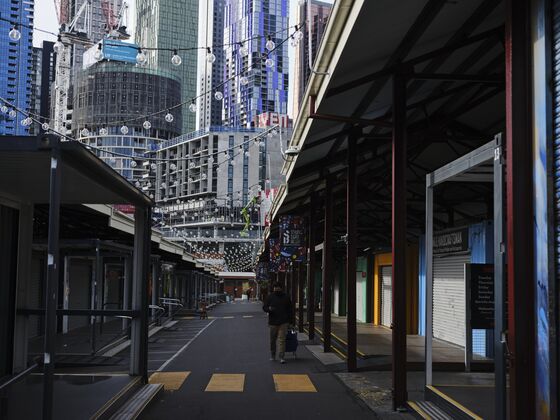 Millions of people in Sydney and Melbourne are currently living under lockdown measures. The country has administered enough doses for just 21% of its population, according to the Bloomberg Vaccine Tracker.
Singapore Restaurant Owners Vent (8 a.m. HK)
Some of Singapore's top chefs are fed up with the government's on-again, off-again measures to stop the spread of Covid-19, which include a temporary shutdown of in-person dining.
Faced with a surge of cases from clusters related to karaoke lounges and a fishery port, authorities announced tighter controls, including a prohibition on eating in restaurants until Aug. 18. That ban took effect Thursday -- just a month after dining-in had been re-allowed -- dealing another blow to an industry that has struggled for more than a year to navigate changing rules, policies that eat into revenue and tight scrutiny.