SSE to Sell Stake in Network, Push Renewables as Elliott Circles
(Bloomberg) -- SSE Plc is selling a stake in its electricity network assets as it grapples with pressure from activist investor Elliott Investment Management.
The British utility is also increasing capital expenditure for net zero infrastructure by 65% to 12.5 billion pounds ($16.8 billion) to 2026, according to a strategic update on Wednesday. Spending will be allocated 40% to networks, 40% to renewables and 20% to other flexible generation.
The sale should appease activist investor Elliott Investment Management which has been pressuring SSE to spin off its renewables business from the grid assets to improve shareholder value. The U.S.-based hedge fund sees such a split as key to speeding up SSE's expansion plans in the U.K. and internationally.
SSE said that separation "would not be the best route for growth, execution and value creation, and was not therefore in the long-term interests of its stakeholders," according to the statement.
SSE's new strategy will help it take advantage of strong interest in infrastructure assets and regulated utility businesses from investment funds seeking stable, long-term returns. It can then plow that money into developing its clean energy projects, which include the world's biggest offshore wind farm.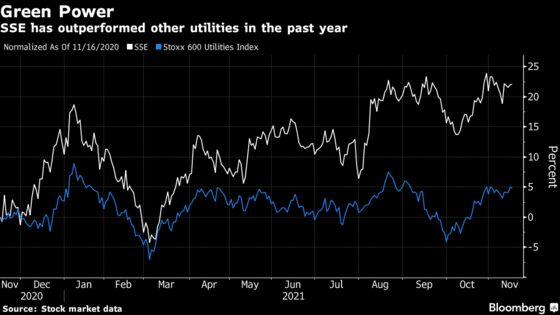 Shares of SSE, which is a member of the blue-chip FTSE 100 Index, have risen 11% in London trading this year to give the company a market value of 17.7 billion pounds ($23.7 billion). 
The company's portfolio includes about 4 gigawatts of wind and hydroelectric power assets and the investment plan announced Wednesday will double that capacity by 2026.