SSE Pulls the Plug on U.K. Energy Retail Merger With Innogy
(Bloomberg) -- SSE Plc and Innogy SE terminated plans to create the U.K.'s second-biggest utility, the latest sign of pressure on the industry from increasing regulation.
SSE's board decided it wasn't in the best interest of the company to proceed with the deal to combine its retail business with Innogy's Npower unit after it emerged last month that more cash would be needed in order to obtain an investment grade rating for the combined company. Shares of Innogy and SSE both fell after the announcement.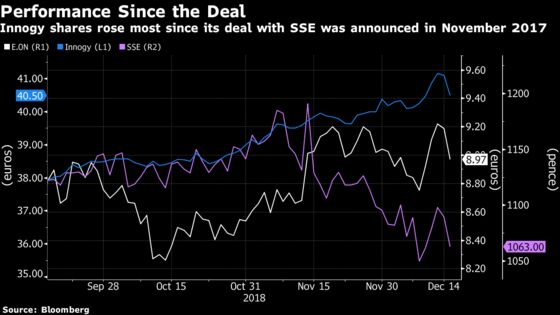 The deal's collapse forced Germany utility Innogy to warn that profits this year would be lower than expected. The move reflects wider pressure on energy companies to adapt to quick shifts in both technology and the political landscape, upending the strategies executives set only a few years ago.
"This is a symptom of a bigger malaise in the market," said Stephen Murray, who specializes in energy at MoneySuperMarket, a price comparison provider. "There has been a danger of too many suppliers being allowed unchecked access to the market. Combined with the imposition of the price cap at a time when market competition and customer benefits were thriving, this would create a negative impact on the residential energy market."
Credit Suisse and Morgan Stanley advised on the deal, according to SSE.
The decision also may unsettle a much bigger deal where the German utility EON SE and its rival RWE AG are working to absorb Innogy in a broader restructuring of the energy industry in that country. EON now is likely to have to absorb Npower and spend "several painful years to re-structure and integrate it," according to Jefferies International Ltd.
Innogy's unprofitable Npower division in the U.K. has been beset by billing issues that have caused a steady exodus of customers. The company's poor customer service means it scores 0.5 out of 10 on Trust Pilot and came bottom of consumer group Which's energy supplier satisfaction survey for an eighth year. Its parent company last month wrote down the value of the unit by 748 million euros ($848 million) because of the loss of 500,000 customers.
EON will now have to merge Npower with its existing U.K. supply business and will need to seek approval from the British competition authorities, according to John Musk, analyst at RBC Europe Ltd.
It leaves utilities owned in Germany on the hook for coping with reworking their businesses in Britain at the same time that the Parliament in London is becoming hostile to the energy industry and struggling to work out a way to leave the European Union.
In Britain, energy suppliers are under intense scrutiny from lawmakers from a price cap on the amount they can charge customers on the most expensive tariffs. The limits come into force in January and were backed by both the Conservative government and the Labour opposition. SSE painted a grim picture for earnings at its supply business in a statement last month, saying margins could be less than half what they were a year ago. The outlook for next year was even worse.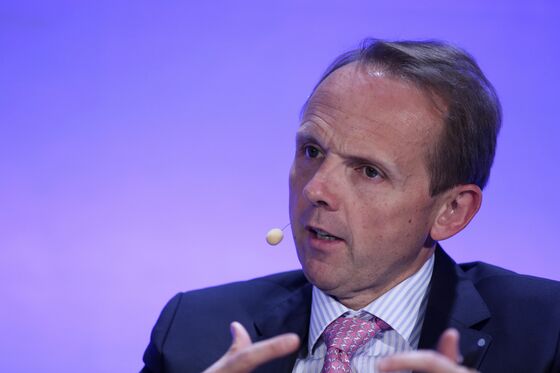 Company performance was one reason cited Monday by SSE for the termination of the deal.
"This was a complex transaction with many moving parts," said Alistair Phillips-Davies, chief executive officer of SSE. "This was not an easy decision to make, but we believe it is the right one."
SSE will now focus on other ways to separate the retail unit, which it still expects to be profitable, the company said Monday in a statement. This is a turbulent time for U.K. utilities. There are now about 70 suppliers in the market and a steep increase in power and gas prices this year has caught some of the smaller suppliers by surprise. Eight companies have been forced out of business already this year.
"No deal is better than a bad deal for SSE," said Ahmed Farman, analyst at Jefferies International Ltd.