Square's Earnings Will Show Whether Growth Pace Can Continue
(Bloomberg) -- Investors hope Square Inc.'s earnings report on Wednesday can jump-start the stock after its worst month in more than two years.
Growth in the key subscription and services segment should fuel revenue growth above estimates, KeyBanc analyst Josh Beck wrote in a research note. Square needs a win after a sell-off in growth stocks last month combined with the surprise departure of Chief Financial Officer Sarah Friar sent the shares tumbling 26 percent in October.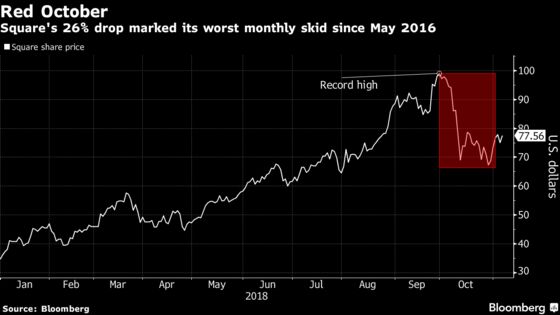 Despite the recent slump, Square is still up more than 100 percent this year on increasing popularity of its mobile Cash Card payments and Caviar food-delivery service. Those businesses helped subscription and services-based sales more than double in the second quarter, compared with the same period a year ago. The stock rose as much as 7.4 percent on Wednesday amid a broader rally in technology stocks.
Commentary about "the overall health of the ecosystem," strong visibility into 2019 and progress in the search for Friar's successor will help Square regain momentum, Citi analyst Peter Christiansen said in a research note on Tuesday raising his rating on the stock to buy.
Analysts are also focused on the level of spending required to support new products. Their estimates suggest they expect that higher spending will carry into next year and beyond, according to David Ritter, a senior analyst with Bloomberg Intelligence.
"The balancing act between growing Ebitda margins and reinvesting back into new product initiatives has been a consistent question," said RBC analyst Dan Perlin, who has an outperform rating on the stock. "The margin expansion story has been significant, which we expect to continue."
3Q adjusted EPS estimate 11 cents (range 9 cents to 15 cents)
3Q adjusted revenue estimate $414.1 million (range $408 million to $428 million)
3Q adjusted Ebitda estimate $65.6 million (range $56 million to $70.3 million)
4Q adjusted EPS estimate 15 cents
4Q adjusted revenue estimate $440.6 million
17 buys, 17 holds, 2 sells
Average price target $85.79 (11 percent upside from current price)
Implied 1-day share move following earnings: 14 percent
Shares rose after 8 of prior 11 earnings announcements
Adjusted EPS beat estimates in 9 of past 11 quarters
Shares have gained 12 percent in past five days vs S&P 500 Index up 2.4 percent
Shares up 123 percent year to date vs S&P 500 up 2.8 percent
Earnings release expected Nov. 7 after market close; last report was 4:05 p.m.
Call 5 p.m. 866-393-4306, password: 9088228