Square Analysts Love Revenue Growth But Valuation Poses Risks
(Bloomberg) -- Square Inc. analysts had split reactions to the mobile payment company's third-quarter results, a takeaway perhaps best described by Morgan Stanley as offering "something for everyone," bulls and bears alike.
While many boosted their price targets after observing strong sales growth and a better-than-expected revenue outlook, there was at least one downgrade, and even bulls wrote that shares faced risks after a sharp year-to-date advance.
Shares fell as much as 9.2 percent in early trading, and while the stock has shed about 24 percent since its record high in early October, it has still more than doubled in 2018.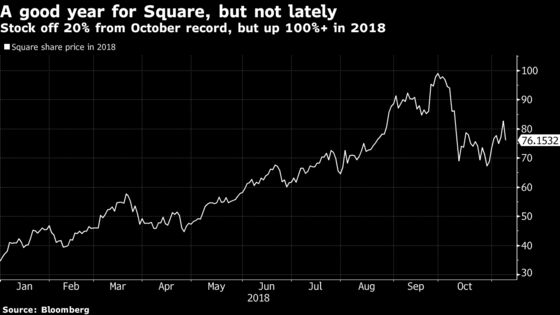 Here's what analysts are saying about the results:
The results were "good, but likely not good enough in light of the amount of optimism reflected in its shares' premium valuation."
Despite better-than-expected earnings and revenue, "we believe a couple of metrics related to its core payment processing business were a tad light relative to expectations which could give rise to concerns of a slowdown."
Palmer affirmed his sell rating and Street-low $30 price target, well below the average target of $87, according to data compiled by Bloomberg.
Susquehanna, Jamie Friedman
"Square is challenging the payments status quo, taking ~ten billion of cumulative revenue share from incumbent merchant acquirers, ISOs and ISVs. But creation requires investment, valuation exceeds our price target; and we have no CFO.''
Friedman also writes that "the future is bright," but it will "await better re-entry pending management visibility." Downgraded the stock to neutral from buy, price target of $77
Goldman Sachs, James Schneider
Strong revenue growth "will continue to dominate the narrative on the stock, especially in light of uneven revenue performance across growth stocks in the broader technology sector."
"Continued revenue acceleration plus healthy 2019 outlook should move the stock higher." He forecasts "substantial opportunity for profit upside relative to the Street in the coming quarter."
Keeps buy rating and $108 target.
Piper Jaffray, Jason Deleeuw
Trimmed price target by $2 to $92 but lifted revenue forecasts for the next two years.
Square's outlook "implies Ebitda below the consensus estimate," he wrote. "Still, we continue to believe downside risks to Square's revenue outlook remain low given strong momentum and an expanding ecosystem."
Piper has a neutral rating "as we believe strong revenue growth is balanced by the strong year-to-date stock outperformance, an elevated relative valuation and a slower pace of full-year margin expansion."
Morgan Stanley, James Faucette
"Our 4Q18 revenue/Adj. Ebitda estimates go up on continued strength in subscription/services, but our profitability outlook for FY19 has been slightly tempered as we now expect +215bps of margin expansion (vs prior +340bps)."
Results could "embolden" shorts because of the weaker margin outlook, while "long-term believers in the stock are also likely to feel pleased precisely because of the strong performance in new products."
Cantor Fitzgerald, Joseph Foresi
Raised price target to $91 from $76, saying they were "attracted to the company's increasing market penetration, end user growth and improving margin profile."
Cantor has an overweight rating on Square.
Needham & Co., Mayank Tandon
"Square delivered another strong quarter, exceeding expectations on all fronts. Subscription & services revenue continues to be a strong point given strength in products such as Instant Deposit, Square Capital, the Cash Card, and Caviar."
Price target lifted to $95 from $75 "on an open-ended growth story."
"Square's ecosystem value proposition is increasingly resonating with a broad swath of SMBs and consumers, in our view, evidenced by another quarter of accelerating rev growth. Square is beating ever-rising revenue estimates and re-investing upside."
Price target lifted by $10 to $84 but keeps hold rating.
"Square's valuation discounts much of this growth and does not contemplate any potential disruption."