Inflation Pain Comes to Philippine Businesses as Oil Climbs
(Bloomberg) -- It's not only consumers who are taking a hit from rising prices in the Philippines. Companies are feeling the pressure as higher oil prices and a weak currency boost their costs.
While data on Tuesday showed inflation was more subdued than economists had expected in May, businesses like D&L Industries Inc. -- a chemical and food ingredient manufacturer that imports half of its raw materials -- are feeling the pinch.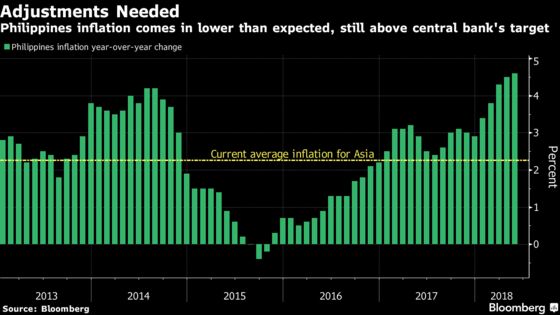 Consumer prices rose 4.6 percent in May from a year ago, the fastest pace in at least five years, but lower than the 4.9 percent median estimate in a Bloomberg survey. The central bank's target is to keep the annual inflation rate at an average of 2 percent to 4 percent from this year to 2020.
"We've definitely seen an increase in the cost of raw materials," Alvin Lao, president and chief executive officer at D&L, said in an interview on Monday. "What we do is we try to pass it on to customers. So definitely, our prices have increased."
Signs of price pressure spreading are becoming more evident with labor groups demanding higher wages and bus and other transport operators asking for fare increases. Airlines are also seeking to raise ticket prices.
The culprit can be traced to oil prices, which breached $80 a barrel in May, and a peso that has dropped about 4.7 percent against the dollar this year. The Philippines imports almost all its oil requirements, and a law that was implemented this year had raised the taxes on the commodity.
The Philippine central bank will do what is needed to ensure it will meet the inflation target next year, Governor Nestor Espenilla said on Tuesday. The bank raised the key interest rate for the first time in four years in May, and the majority of economists predict at least one more increase this year.
"The inflation outlook continues to be a concern and requires close attention," Espenilla said. Authorities "will consider what further adjustments are necessary to firmly anchor inflationary expectations and ensure that the inflation target will be achieved in 2019," he said.
Policy makers will likely raise interest rates "sooner rather than later," possibly in August with a chance as early as this month, Goldman Sachs Group Inc. economists said in a note on Tuesday.
Trail Adventours, which runs hiking tours in the Philippines and abroad, said profit has fallen as the cost of oil rose.
"We're pretty heavy on gas," Guido Sarreal, the owner, said in an interview. "I would say a full tank now is 600 pesos ($11.4) to 800 pesos more than it used to be. We just had to increase prices."