Sports Direct Tumbles as Ashley's Debenhams Bet Backfires
(Bloomberg) -- Sports Direct International Plc investors have been left counting the cost of billionaire founder Mike Ashley's wheeling and dealing.
The U.K. sportswear retailer reported a 73 percent decline in full-year pretax profit Thursday. The drop was mainly due to a one-time charge of 85.4 million pounds ($111 million) related to its investment in struggling department store chain Debenhams Plc. Sports Direct's shares dropped as much as 12 percent.
Debenhams shares hit all-time lows this week after a newspaper report that the company had lost credit insurance reignited fears over its ability to survive a tough trading market for the U.K.'s traditional retailers. In March, Sports Direct increased its holding in Debenhams to 29.7 percent, just below the level at which it would be required to bid for the entire company.
"We obviously didn't predict Debenhams would be under this much pressure," Sports Direct's head of investments Liam Rowley said in a phone interview. "Time is clearly not on our side. With the online tsunami coming, bricks-and-mortar retailers need to collaborate."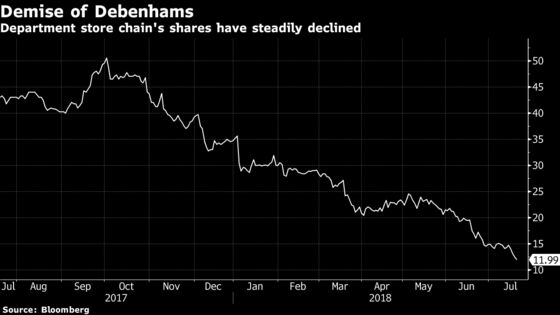 After the U.K. retail crisis claimed Toys 'R' Us U.K., electronics retailer Maplin and discounter Poundworld this year, Ashley's investments in other U.K. retailers is coming in to sharper focus. Brick-and-mortar chains are struggling with a slowdown in consumer spending, the rise of e-commerce and soaring costs.
As well as a stake in Debenhams, Ashley has invested in everything from lingerie brand Agent Provocateur to computer game retailer Game Digital Plc.
"It's hard to fathom the precise strategy at play," Laith Khalaf, an analyst at Hargreaves Lansdown said. "With such a maverick in charge of the business, we can continue to expect the unexpected."
Goals Soccer Centres, another of Ashley's investments, is also having a difficult time. The company's shares plummeted as much as 32 percent Thursday after it warned that results for the full year will be significantly below expectations due to heavy snowfall earlier in the year.
Despite e-commerce continuing to suck sales away from U.K. shopping streets, Sports Direct is doubling down on its investment in stores. The company is shutting dozens of old, tired stores and opening more modern and spacious outlets. Ashley is hoping to fill that space with the latest ranges from Nike Inc. and Adidas AG, who still don't supply all of their best products to Sports Direct, which is known for selling house brands at cheap prices.
Chief Financial Officer Jon Kempster said the retailer was very happy with how the new outlets have been trading. Sports Direct invested 140 million pounds in property last year and expects to spend around 300 million pounds this year.