Sports Direct Falls as Ashley Says Business 'Unbelievably Bad'
(Bloomberg) -- Sports Direct International Plc plunged the most in two years after billionaire Chief Executive Officer Mike Ashley said business in November was "unbelievably bad."
Shares of the U.K. sporting goods retailer fell as much as 20 percent on the tycoon's characteristically blunt remarks, this time assessing the state of his own business. That extended earlier losses after the company warned that fixing problems at House of Fraser, the department-store chain it recently acquired, will cost more than expected.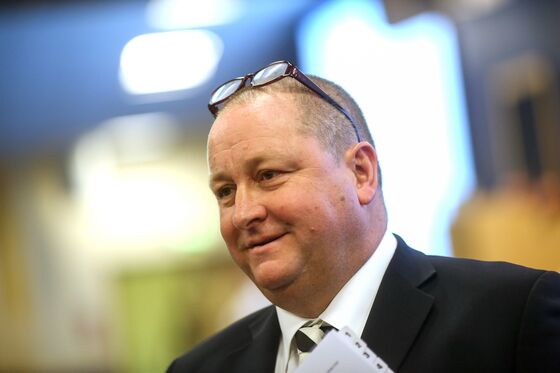 The woes at Sports Direct deepen the malaise in the U.K.'s shopping districts, already reeling from a shift to online shopping and the effects of Brexit, including higher sourcing costs and flagging consumer confidence.
"Retailers can't take that kind of November," Ashley told analysts in a meeting. "It will literally smash them to pieces."
The company later said the weak November was taken into account in a forecast issued earlier Thursday. Growth in underlying earnings before interest, taxes, depreciation and amortization will be in a range of 5 percent to 15 percent by the end of the year, the company reiterated, when results from House of Fraser are excluded. Including those results, Ebitda will trail last year's performance, the company said.