SpongeBob's Meme Empire Put to the Test With Paramount+ Debut
(Bloomberg) -- On social media, SpongeBob SquarePants and his undersea friends are mentioned or turned into a meme every five seconds.
Now ViacomCBS Inc. will find out if that social-media clout can get customers to actually pay for SpongeBob content. The company is releasing a new SpongeBob movie and the first six episodes of a spinoff show on Paramount+, an overhauled streaming service that starts at $5 a month. The two will be available with Thursday's U.S. launch of the new platform, formerly called CBS All Access.
Though the franchise is over two decades old, it's more important than ever to ViacomCBS, which owns the kids network Nickelodeon, as the cable empire tries to prove it can do more than just tread water in the vast ocean of streaming.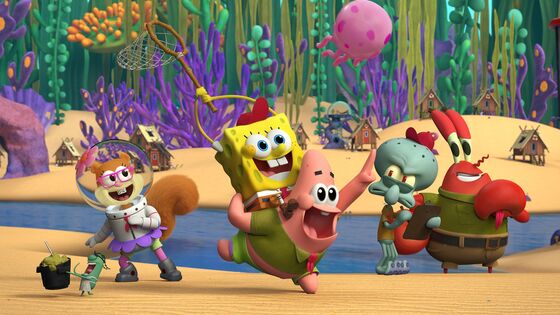 The company expects to spend at least $5 billion a year on streaming by 2024, and making sure its big brands deliver audiences is key to challenging the likes of Netflix and Disney+.
SpongeBob "in many ways is the centerpiece of our strategy, pairing a beloved library with brand-new takes on beloved characters," Brian Robbins, president of kids and family entertainment for ViacomCBS, said at an event to promote the company's streaming services last week.
The company announced last summer that "The SpongeBob Movie: Sponge on the Run," the first-ever all-CGI SpongeBob motion picture, would run digitally in the U.S. amid the obvious problem the pandemic has presented for new movie releases. When the film premiered in Canadian theaters late last year, it took in $865,824 across 300 locations.
The movie will also be available to rent from digital stores, including Apple TV, Amazon Prime Video and Vudu.
"Kamp Koral: SpongeBob's Under Years," the new show starring child versions of the original cartoon characters, is another part of the company's attempt to make Paramount+ a must-have for parents. The complete catalog of the original show will also be streamable on the platform.
Since "SpongeBob SquarePants" first aired in 1999, it has amassed a huge fan base of people across generations. It has been nominated for 10 prime-time Emmy Awards and was adapted into a Broadway musical. It's "hands-down, the most watched kids' franchise there is," Robbins said. And it lives on in video games, in action figures and other products, and in those social-media memes.
The animator behind the original show, Stephen Hillenburg, was a marine biologist who created an early version of SpongeBob while teaching at the Orange County Ocean Institute in 1984. He died in 2018 at age 57 after being diagnosed with the nervous-system disease ALS.
Formerly part of the old Viacom, CBS was the first broadcast network to create a stand-alone streaming service when it launched All Access in 2014. CBS and Viacom announced a merger agreement that brought them back together in 2019.
Now, with Paramount+, ViacomCBS expands its streaming offer to include more of its portfolio of broadcast, news, sports and entertainment -- and avoids the confusion of introducing a new service with a similar name to the old one, à la AT&T Inc.'s HBO, HBO Max, and now-defunct HBO Go and HBO Now.
"I think the super-smart thing was calling it something entirely different, and also calling it something that is a little bit more glamorous-sounding, because Paramount was a glamorous organization," said Ava Seave, principal of consulting firm Quantum Media.
ViacomCBS's previous money-making strategy had been to sell off streaming rights to its hits to rival services to make up for falling advertising sales. Now, Paramount+ must play catch-up, without some of the company's major hits now owned by competitors.
Part of this new strategy is releasing new reality-TV series, documentaries, dramas and original movies every week, and putting some new films online 30 to 45 days after they leave theaters, rather than the traditional 90. And, of course, returning to old hits like "SpongeBob SquarePants" to attract old fans to its new content.
But reactions to the company's event to trumpet its streaming strategy were mixed. Alan Gould, managing director at Loop Capital Markets, cut his rating on the company to sell from hold, saying it's too soon to tell how successful Paramount+ will be. The firm is skeptical that streaming's long-term cash flow can more than offset "the forgone licensing revenue and declining traditional-media cash flow."
Geetha Ranganathan, an analyst for Bloomberg Intelligence, said she's not sure that drawing people in with a few old franchises they care about, like SpongeBob, is enough to keep subscribers long-term.
"You can get some subscriptions -- you can definitely appeal to some portion of the audience," Ranganathan said. "But we've just gotten so used to Netflix kind of pampering, with almost a couple of new shows every day."