SPH, Keppel Said to Mull Buyout of $1.1 Billion Carrier M1
(Bloomberg) -- Singapore Press Holdings Ltd. and an arm of Keppel Corp. are considering making a general offer for the shares they don't already own in the city-state's smallest wireless operator, M1 Ltd., people with knowledge of the matter said.
The pair has approached M1's biggest shareholder, Malaysian carrier Axiata Group Bhd., about the potential transaction, the people said, asking not to be identified because the information is private. A deal for M1 could be announced as soon as the next few days, they said.
M1's market value has dropped 59 percent to S$1.51 billion ($1.1 billion) since its 2015 high, while revenue is expected to fall about 1.5 percent this year, based on analyst estimates. As the smallest carrier in Singapore's saturated wireless phone market, M1 has had to cut prices, dragging revenue per user lower ever year since 2010.
"If Keppel and SPH do make a move for M1, it is primarily due to the value that the telco offers because of its share-price weakness, " said Kenny Liew, an analyst at Fitch Solutions. "M1, despite seeing its revenues slide, has still maintained a relatively stable profit because of its capital efficiency, and this will definitely be attractive to both Keppel and SPH."
Axiata shares rose 4.2 percent, the biggest gain since Aug. 8, in Kuala Lumpur trading on Wednesday. Any offer should reflect an acceptable premium to buy control of M1, Axiata said in a statement.
A buyout of the Axiata stake in M1, which was 28.7 percent as of February, would put publisher Singapore Press, also known as SPH, and infrastructure company Keppel in control of the carrier, just as TPG Telecom Ltd. enters the market this year. The addition of a fourth competitor for mobile phone subscribers will add to pressure on the companies to lower prices even further and raise revenue by offering additional services such as TV and movies on demand.
"A simplification in the ownership in M1 could also make it easier for major decisions to be made," said Joseph Ng, an analyst at Oversea-Chinese Banking Corp.
M1 spokesman Ivan Lim said the company can't comment on shareholder plans. Representatives for SPH and Keppel didn't immediately answer requests for comment.
Keppel Telecommunications & Transportation Ltd., a listed subsidiary of Keppel Corp., owns about 19.3 percent of M1, while SPH holds about 13.5 percent, data compiled by Bloomberg show.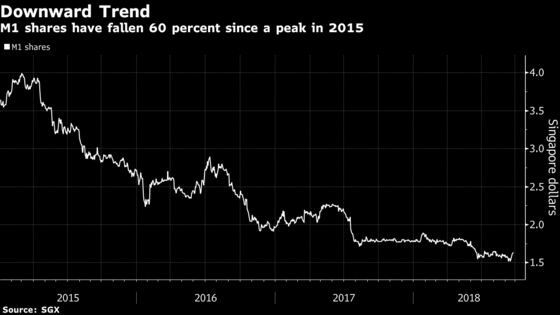 According to Jin Rui Oh, a senior analyst at United First Partners, Keppel and SPH's offer could come in around S$1.95 per share, or about 14.2 times earnings, which is about 20 percent more than the most recent closing price. Singapore Telecommunications Ltd. trades at about 15.5 times estimated earnings, while StarHub Ltd. is at about 14.4 times, according to data compiled by Bloomberg.
Shares of M1 and Keppel T&T have been halted since Monday, pending announcements. SPH fell 1.4 percent in Singapore, while Keppel Corp. rose 0.4 percent. StarHub fell 0.6 percent and Singapore Telecommunications dropped 0.3 percent.
Keppel has approached SPH to take part in a possible transaction regarding M1 shares, the newspaper publisher said in an exchange filing Monday, without providing more details of the deal.
Axiata may decide to make its own offer for M1 if the price announced by SPH and Keppel is too low, two of the people said. In July last year, SPH and Keppel -- together with Axiata -- ended a strategic review of their stakes in the operator after potential suitors to buy the city-state's smallest cellular services provider dropped out.
The Malaysian carrier said it is in discussion with a financial institution to act as its adviser to review various options available with the view of "vigorously" protecting and enhancing shareholders' value of both Axiata and M1, according to its statement Wednesday.