Speed Trader Hudson River Chooses Dublin as Post-Brexit Home
(Bloomberg) -- Hudson River Trading LLC, one of Europe's biggest equity traders, picked Dublin to be its base in the European Union once the U.K. leaves the bloc next March.
According to its website, the speed trader is seeking to fill three jobs in Dublin: a compliance officer and two people in trading operations. The U.S.-headquartered firm ranks alongside Citadel Securities LLC, Jane Street Financial Ltd. and Tower Research Capital as one of the biggest algorithmic traders of European equities.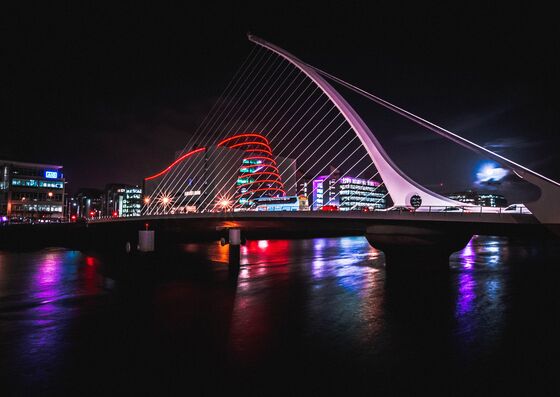 A Hudson River spokesman confirmed in an email that the firm has sought regulatory approval from the Central Bank of Ireland to operate in the Irish capital. The company plans to open a Dublin office with more than five employees before the end of this year. It intends to hire more people in 2019, the firm said, without elaborating further.
Any firm wanting to trade with EU-based clients needs to have a regulated entity in place before the U.K. formally leaves the bloc on March 29. Unless the U.K. and the remaining EU member states reach an agreement, the City of London's finance firms will be cut off from their continental trading partners when markets reopen on April 1.
Dublin has had a few victories luring London businesses ahead of Brexit, but none of them have been speed traders until now. That's surprising, because the city has been a center for algorithmic stock trading since before the Brexit referendum. Most major trading firms and the venues they trade upon have chosen Amsterdam, a hub for market makers of exchange-traded funds and derivatives.
A ranking of rival financial centers updated last month showed that Amsterdam has leapfrogged Dublin in the eyes of finance professionals. In the latest Global Financial Centres Index, compiled by research firm Z/Yen and the China Development Institute, the Dutch city climbed to 35th position and the Irish capital fell to 37th.
Citadel Securities, the market maker founded by Ken Griffin, Susquehanna International Group and Virtu Financial Inc. all trade European equities from Ireland.
Hudson River's London office, located on the eastern edge of the capital's financial district, will remain the firm's biggest office in Europe.