Spain Banks Tumble as Court Rules They Must Pay Mortgage Tax
(Bloomberg) -- Spanish lenders tumbled after the nation's Supreme Court ruled they must pay a one-time tax of about 1 percent on mortgage loans that traditionally was passed to their clients.
Declines ranged from 6.3 percent at Banco de Sabadell SA to 1.8 percent at Banco Bilbao Vizcaya Argentaria SA, which has a much larger international business that cushions the impact of the ruling. Even as uncertainty shrouded the issue of whether banks would be required to pay retroactively, lenders were the biggest losers on the IBEX 35 index.
The court altered an earlier ruling, deciding now that the levy on documenting mortgage loans must be paid by the lenders. Mortgages are one of the biggest businesses for domestic banks. The sentence is one of a string from Spanish and European Union courts in recent years in favor of home buyers and at the expense of banks.
Banks have always abided by rules that have been in force for more than 20 years and haven't collected any money from clients for the levy, the Spanish banking associations AEB and CECA said in a statement after the ruling.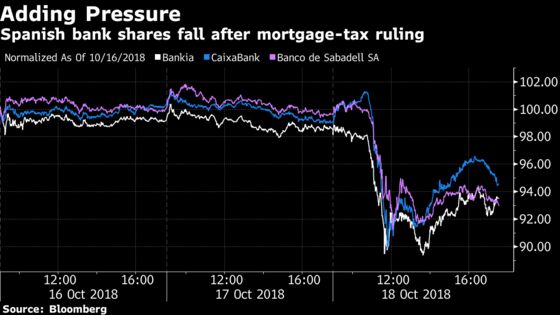 "This is one more negative piece of news for banks, but the market is over-reacting as it is very difficult to calculate the real impact the ruling will have," Renta 4 banking analyst Nuria Alvarez said by phone. "Margins are already under pressure from low interest rates and this adds to all the negative sentiment toward banks."
While the ruling doesn't specifically talk about its effects being retroactive, tax refunds can be claimed for the previous four years, a court spokesman said by phone. New home loans total more than 160 billion euros since the start of 2014, according to Bank of Spain data.
Daragh Quinn, an analyst at Keefe, Bruyette and Woods, said Spain's domestic banks would face a 1.7 billion-euro impact, assuming a 66 percent claim ratio. The worst affected would be CaixaBank SA, that may face a 227 million-euro impact if three quarters of eligible clients win a claim, Quinn said in a report Thursday.
"We believe that the provisions needed could be relatively moderate," he said.
Citigroup analysts said the impact of the ruling could range between 1.3 billion euros to 4.5 billion euros but further clarity on how far the payments may have to go back "is key," Stefan Nedialkov and Anand Demble said in a note.
The tax rate, which varies from region to region, probably averages 1 percent across the country, said Francisco Garcia, head of legal services at Arriaga Asociados law firm in Madrid, which specializes in claims against banks.
"We still need to study the ruling in-depth, but after a first look it seems that, given that the four-year legal term has not expired, borrowers will be entitled to claim their money directly from the tax agency, which in turn will claim it from the banks involved," said Carlos Cruzados, chairman of the union of budget ministry technicians Gestha, in a phone interview.
"The decision implies a severe setback for the Spanish financial system and joy for every mortgage-payer, who might get back a significant amount" of money, said Fernando Encinar, head of research at property website Idealista. In the short term, banks will likely raise their mortgage arrangement fees to compensate for their new cost, he said.
The levy is applied to the mortgage guarantee -- the loan amount plus possible foreclosure costs -- and could be roughly 1,500 euros ($1,728) on a 180,000-euro loan in Madrid, according to Angel Mejias, an attorney at M de Santiago Abogados in the capital.
In 2016, the European Union's top court ruled that banks cannot refuse to pass on interest savings in variable-rate loans when a benchmark falls below a certain level, triggering a rush by clients to claim back the money. Banks took provisions to cover expected compensation.