Spain's Ciudadanos Targets Power of Big Business After Election
(Bloomberg) -- Luis Garicano, a senior economic adviser at Spanish centrist party Ciudadanos, said his party would strengthen regulation to scale back the market power of big companies and root out political influence if it wins power after next month's election.
"We have been very concerned that many sectors in Spain have been getting monopolized over time," Garicano said in an interview with Bloomberg Television Wednesday. "In the electricity sector, in the energy sector, in the telcos sector there is too much market power."
Spanish Prime Minister Pedro Sanchez has called a snap general election for April 28 in a bid to extend the nine-month life of his Socialist-led minority government. The liberals of Ciudadanos, currently running third in opinion polls, look well-placed to play the role of kingmaker in the likely event that the vote doesn't yield a clear winner.
Speaking in London, Garicano, who heads the party list for European parliamentary elections in May, reiterated his group's position that it won't enter any coalition with the Socialists. What Spain needs most now is a period of calm based on the rule of law, said Garicano, adding that Catalan independence parties must respect the constitution or risk being placed under more control from Madrid.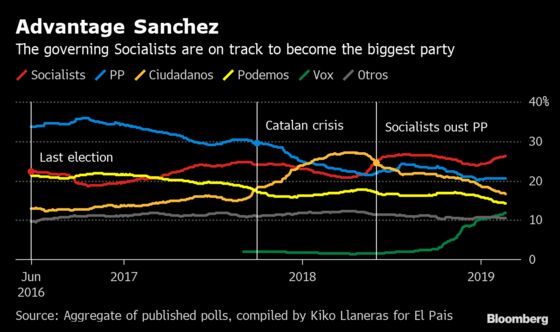 "Spain has had a really big crisis over the past year and a half," Garicano said. "Our hope is to unify Spain, to move forward and to go beyond these divisions."
Asked what would his party's main focus in economic policy, Garicano said Spain needs to boost investment in human capital by improving its education system.