Spain to Change the Law to Make Banks Pay for Stamp Duty
(Bloomberg) -- Spain will change its mortgage law so that banks have to foot the bill for future stamp-duty payments on property purchases.
The government announcement was a response to the popular and political outrage that followed a court decision last night that home buyers should pay the tax.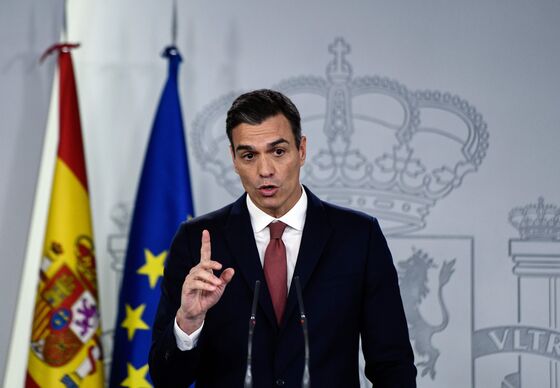 Prime Minister Pedro Sanchez said the government regrets the Supreme Court decision handed down late Tuesday, and that it will make banks pay the tax from the moment it publishes a decree on the matter.
"Never again will Spaniards pay the tax," Sanchez said at a news conference in Madrid on Wednesday. Buying a house is a "big investment" and purchasers should "have legal security."
Spain's largest banks soared Wednesday morning after the Supreme Court said lenders aren't liable for mortgage stamp-duty payments that could have imposed billions of euros in extra costs. They then pared their gains, and held steady on Sanchez's comments.
Bank executives have said that they'll find ways to cover the extra costs if they're made to pay the tax.
"This will have zero impact. Banks will just raise fees or increase mortgage interest," Alfonso Benito, chief investment officer at Spanish asset manager Dunas Capital, said by phone. "The government announcement is just a political gesture."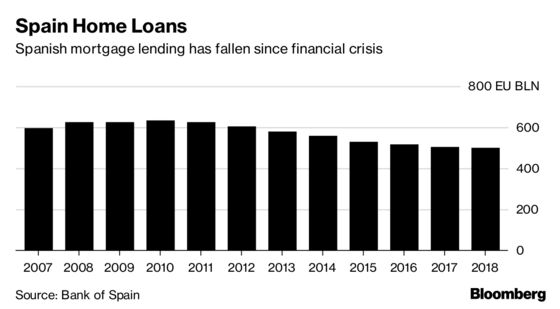 A decision to make lenders pay the tax retroactively over four years would have cost them 5 billion euros ($5.7 billion), Budget Minister Maria Jesus Montero said in Madrid on Tuesday.
The initial ruling on Oct. 18 that banks should pay caused them to slump. The court froze the sentence a day later, citing concerns about the "enormous economic and social impact" of the decision.
Tuesday's judgement saw the court rule 15 in favor and 13 against home buyers paying the tax.
The ruling sparked fury across the Spanish political spectrum, prompting warnings that lawmakers would take up the issue.
"The banks win and citizens lose," Pablo Iglesias, secretary general of the anti-establishment Unidos Podemos party, wrote on Twitter on Tuesday night. "The independence of the Supreme Court is called into question; democracy is weakened."
The party, an ally of Sanchez's minority government, called for a protest outside the Supreme Court on Nov. 10.
The Spanish banking association was in favor, saying on its website on Tuesday that the decision "preserves the legal security needed for the good functioning of the market."
Banco de Sabadell SA rose as much as 15 percent in Madrid after the judgement, before paring its gains to 2.1 percent as of 2:56 p.m. CaixaBank SA climbed 6.2 percent, and later cut its advance to 3.5 percent.