SPACs Flood Spotify Venture Capitalist With Offers That He's Rejecting
(Bloomberg) -- The Swedish venture capitalist who over a decade ago ignored the skeptics and backed Spotify is now voicing skepticism toward blank check companies as he gets inundated by bids.
Northzone's Par-Jorgen Parson says he's "been getting calls from many SPACs from all over the world wanting to buy our portfolio companies." But as a model, the special purpose acquisition company "is not very interesting" for Northzone, he said in an interview from Stockholm.
Parson is one of Northern Europe's most successful venture capitalists, with a portfolio that includes Klarna and iZettle. Around the time leading up to the global financial crisis, he generated the seed capital Spotify needed to build its business, helping it grow into the $50 billion success story it is today.
His hesitation toward SPACs comes as a growing number of investors in Europe are drawn into the construction. In Sweden, where Parson is based, the first blank-check vehicle just went public, luring some of the country's biggest pension funds. ACQ Bure AB, which is up about 9% since its March 24 listing in Stockholm, has given itself three years to find a portfolio company.
Northzone's 'Unicorns' in 2021
And its previous Unicorns...

Klarna
Kahoot
Trustpilot
Hopin
Tier
Personio
Thirty Madison
FuboTV

Spotify
iZettle
Avito
Stepstone
Lastminute.com
In the U.S., the frenzy around SPACs has Wall Street girding for more regulatory oversight amid a deluge of deals. Through the middle of March, about $70 billion was raised, accounting for more than 70% of the market for initial public offerings. That compares with just over $80 billion for all of 2020.
From a European perspective, Parson says the relative value of doing a SPAC instead of a regular IPO is far from convincing. He says that in Europe, "we have much better legislation when it comes to IPOs."
SPACs -- publicly traded shell companies that raise money from shareholders with the goal of buying a business -- rely "incredibly on who the sponsor is behind the SPAC, and what its terms are," Parson said. There are also "quite a lot of risks" associated with the so-called de-SPACing process, he said, referring to the point at which a SPAC combines with a target company.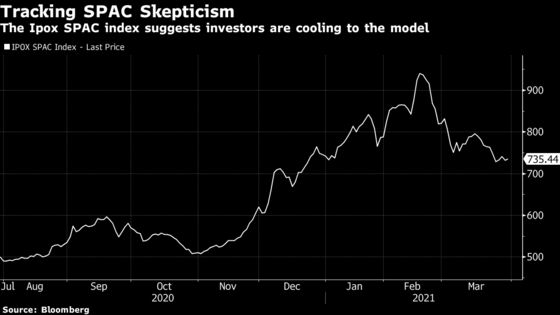 Parson notes that de-SPACing means "you typically have to raise a PIPE," or private investment in public equities, which is often needed in a reverse merger. "So you need to do almost the same amount of capital raising work anyway."
SPACs have their place, Parson says, and Northzone has even used them in the past, "but for very specific scenarios." He also warns against pushing companies to go public too early. "It's not a good way for a company to develop," Parson said.