Spacemen Get Their Wings in U.S. Milestone for For-Profit Flight
(Bloomberg) -- Two pilots received commemorative wings Thursday in a Washington ceremony that marked a giant leap on the way toward for-profit space flight.
Mark "Forger" Stucky and Frederick "C.J." Sturckow, who were aboard Virgin Galactic's spacecraft Dec. 13 when they breached the Earth's atmosphere on a test flight, became members of a very small clique of astronauts who reached space on a commercial vehicle. The venture was founded by British entrepreneur Richard Branson, founder of Virgin Group Ltd.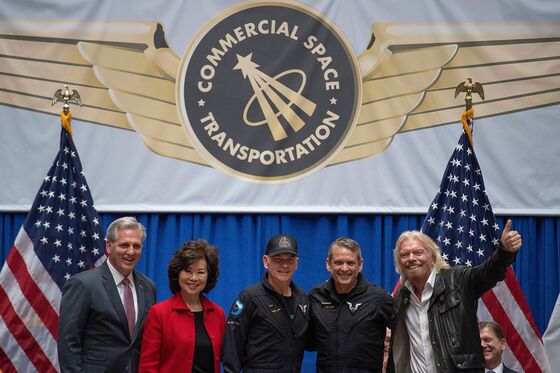 It was the first flight by one of the companies racing to build a space tourism business.
"We are finally at the door of a new age of space exploration," Branson said Thursday at the ceremony overseen by Transportation Secretary Elaine Chao.
Despite a slow start and the challenges posed by the fatal 2014 accident on another Virgin Galactic ship, Branson predicted space launches by private companies would "transform lives in ways which we, I think, have yet to fully comprehend."
Virgin Galactic is one of several companies trying to create spacecraft that can carry customers for hire into space. Others include operations founded by billionaires and space entrepreneurs Elon Musk, founder of Space Exploration Technologies Corp., and Jeff Bezos, head of Blue Origin LLC.
Two commercial astronauts on SpaceShipOne in 2004 reached higher altitudes than Virgin Galactic in separate flights on that test vehicle, making them the first pilots to receive the government's commercial space wings.