SPAC Boom Heats Up as Latest Blank-Check ETF Hits the Market
(Bloomberg) -- There's a new exchange-traded fund tracking the hot trend of blank-check companies.
The actively managed Morgan Creek – Exos SPAC Originated ETF (SPXZ) started trading Tuesday and charges a 1% expense ratio, according to a statement from Morgan Creek Capital Management and New York-based EXOS Financial.
Special-purpose acquisition companies have exploded in popularity as a way for purchasers to avoid the costly and time-consuming initial public offering process. They basically sell shares of a business that has no operations, promising to use the money within two years to buy a private one. Last year alone, more than 200 blank-check companies raised $80 billion, and analysts bet retail investors in platforms such as Robinhood will fuel the next wave of gains for the industry.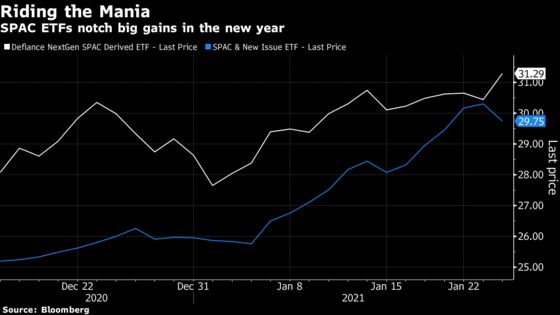 SPXZ plans to target the biggest 50 pre-combination as well as the largest 50 post-combination SPACs in building its portfolio, according to the statement.
"Active management should be a key consideration for those investing in this space," said Mark Yusko, chief executive officer at Morgan Creek, "Historically, SPAC returns have been bifurcated, with the top deals performing very well, but the bottom deals performing poorly. Given the nature of the embedded sponsor incentives in these deals, we expect this performance bifurcation should continue in the future."
Some of the industry's most-successful examples are Virgin Galactic Holdings Inc. -- a developer of space vehicles that has surged more than 80% in 2021 -- and online sports-betting company DraftKings Inc., which is up 18%. Those gains have largely outpaced the 2.7% advance in the S&P 500.
Meanwhile, the $59 million Defiance NextGen SPAC IPO ETF (SPAK) and the $87 million SPAC and New Issue ETF (SPCX) have gained 9% and 15% this year, respectively.