The World Just Lost Its Only Ride to the Space Station
(Bloomberg) -- The aborted launch of a Russian Soyuz spacecraft Thursday due to a booster malfunction left two astronauts unable to report for duty at the International Space Station. Unfortunately, the mishap means no one else can fly there, either.
The Soyuz has been the only way to reach the station since the 2011 retirement of the U.S. Space Shuttle program. The launch failure will likely ground the program until an investigation is completed. It's too soon, however, to say whether this incident will impact the next Soyuz flight, currently scheduled for December.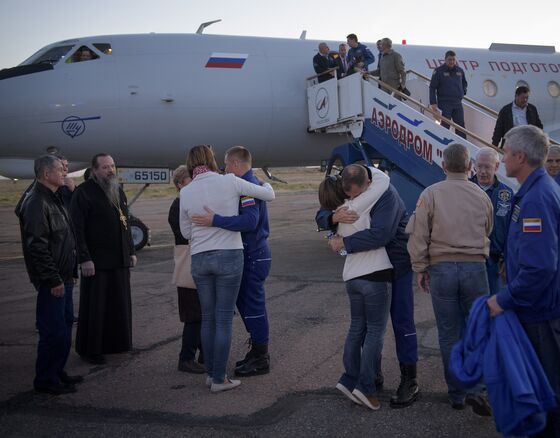 The current three-member crew of the ISS is scheduled to return on Dec. 13. The Soyuz capsule currently at the station with those astronauts, which could be used to return to Earth in an emergency, is certified to remain in space until Jan. 4, Kenny Todd, the ISS operations manager, said Thursday at a news conference.
NASA expects Russia to quickly form a commission to determine what happened during the two minute and 45 second flight of the Soyuz capsule carrying NASA astronaut Tyler "Nick" Hague and Russian cosmonaut Alexey Ovchinin.
If the current ISS crew is forced to return to Earth before the investigation is complete, NASA's nascent commercial crew program could be delayed yet again, too. SpaceX is scheduled to conduct a demonstration flight in January 2019, followed by a test of Boeing Co.'s CST-100 Starliner in March. The agency wants to have crew aboard the ISS to monitor the approach of both new U.S. crew vehicles. The effort to create a bigger U.S. space launch platform is mired in delays, thanks to a projected 100 percent cost overrun and years of delay by aerospace behemoth Boeing Co.
Read More: Boeing Is Delaying America's Return to Space, NASA Report Says

"Certainly for early flights we want to have crew on board," Todd said, noting that the ISS is "a $100 billion international asset" and needs astronauts to observe the SpaceX and Boeing approaches. Both initial flights are expected to dock at the station without crew. The first flight with a crew is currently set for June 2019 by SpaceX, with Boeing to follow in August.
NASA said it's too soon to ascertain any delays flowing from Thursday's mishap. "The commercial crew and International Space Station teams will be working closely to assess the best options for continued support of the" ISS, agency spokeswoman Stephanie Schierholz said in an email.
The Soyuz, which dates to 1966, is the most launched vehicle in space history and has demonstrated its ability as "a robust, redundant, reliable machine," said Reid Wiseman, deputy chief of NASA's Astronaut Office, who served a 165-day mission aboard the ISS in 2014. "It's great to see how the Soyuz handled this emergency and how the astronauts handled this emergency," Wiseman said.
The current crew consists of Alexander Gerst, a European Space Agency astronaut from Germany; Dr. Serena Auñón-Chancellor, a NASA flight surgeon; and Sergey Prokopyev, a cosmonaut who serves as flight engineer. They arrived at the station on June 8.
"They will stay up there as long as we need them to," Wiseman said.