Boeing Climbs as Southwest Places Big Order for Smallest Max
(Bloomberg) -- Boeing Co. rose after Southwest Airlines Co. ordered 100 of the smallest version of the 737 Max, cementing a half-century relationship and ending a public flirtation with Airbus SE.
The deal for Max 7 planes strengthens Boeing's first-quarter sales as well as its campaign to bolster its single-aisle aircraft program after two fatal crashes spurred a record flying ban for a U.S. jetliner. Southwest signaled its willingness to take buyer-less jets known as "white tails" to help clear the planemaker's bloated inventory of undelivered Max aircraft.
The airline, meanwhile, will get a sweet deal as it nearly doubles its Boeing orders and commitments. Adding 169 new Max 7 and 8 models over the next five years will require outlays of just $5.1 billion, Southwest said Monday. That works out to $30.2 million a plane, although the airline's previous payments and grounding-related compensation also factored into the total sale price. Appraiser Oriel estimates a $46 million long-term base value for the Max 7.
With the order, Southwest chose to continue its decades-long history of flying only the 737 -- valuing economics and simplicity in its fleet of more than 700 aircraft -- after hinting for more than a year that it might switch to the Airbus A220. The Southwest deal provides a boost to the slow-selling Max 7, which Boeing said is on track to be certified this year by U.S. regulators.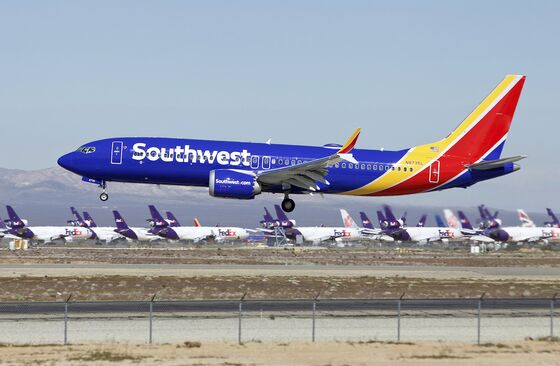 "In the end a combination of Boeing's pricing for Southwest, rewarding their loyalty, and the attractiveness of fleet commonality seems to have won them over," George Dimitroff, head of valuations for consultant Ascend by Cirium, said in an email.
Boeing advanced 2.3% to $250.52 at the close in New York, the biggest gain on the Dow Jones Industrial Average. That brought the shares' year-to-date gain to 17%. Southwest slipped less than 1% to $60.96 in Monday trading, while Airbus's American depositary receipts lost 1.1% to $28.55.
Southwest began seriously reviewing the 150-seat Airbus model in 2019 after the global grounding of the Max. A deep slump in travel demand from the Covid-19 pandemic presented an opportunity for the airline to consider adding another aircraft type to its fleet with less disruption to its operations, Chief Executive Officer Gary Kelly had said. But the order was considered Boeing's to lose and in the end the long-time trade relationship remained intact.
"Today's commitment to the 737 Max solidifies our continued appreciation for the aircraft," Kelly said in Monday's statement.
"We reinforce our commitment to the Max and our all-Boeing fleet, and this was our preference all along," he said in a message to employees. "But as the Max 8 is the best aircraft in the 175-seat class, we needed to make sure the Max 7 is the best aircraft in its 150-seat class."
The deal will establish the Max 7 as a mainstay of Southwest's fleet and help resolve concerns that Boeing's sales revolved around one model: the best-selling Max 8. The Dallas-based carrier plans to take delivery of 200 of the smaller Max 7 over the next decade -- with the first 30 handovers scheduled for next year -- along with 149 of the midsize model.
Southwest hasn't decided whether it will ultimately have more of the 150- or 175-seat Boeing models in its fleet going forward, Chief Operating Officer Mike Van de Ven said in an interview. The smallest Max can fly longer distances, giving Southwest the ability to connect cities it can't now. The jet could also be used for short-distance international routes or for Hawaii flying.
The airline isn't interested in a bigger plane than the current Max variants "for as long as I can see at this point," Van de Ven said.
But it's not clear that other airlines will follow Southwest in breaking from the industry's march to larger single-aisle jets, which is motivated by the goal of lowering costs for each seat flown a mile, said Dimitroff of Ascend. Southwest's network includes many smaller markets where it can't justify the larger Max 8, he said.
The airline's 349 firm orders for the Max 7 and 8 amount to 11% of Boeing's total narrow-body order backlog, and Southwest has options for 270 more planes through 2031. The carrier is slated to receive 28 of the midsize Max 8 jets this year, including nine from lessors. Southwest will end the year with 729 aircraft.
Southwest's planned capital expenditures hint at the heavy discounts that helped seal the deal. The airline had an undisclosed amount of delivery credits and an $828 million cash settlement with Boeing over the Max grounding, plus credits for delayed shipments that all reduced its costs. In addition, Southwest made advance payments to Boeing during the grounding when it wasn't able to take delivery.
Van de Ven declined to discuss if Southwest's $30-million-a-jet payments are close to the final price. "It's messy" because of the mix of the delivery payments, the damage settlement and credits, he said.
"It's a very cost-effective order book, something we're extremely proud of," he said.