Southwest Considers a New Delay in Max's Return on Regulatory Review
(Bloomberg) -- Southwest Airlines Co. is weighing another delay for the return of the 737 Max to its flight schedule as Boeing Co.'s grounded plane awaits approval by aviation regulators.
The airline probably won't be able to use the Max by the planned date in early March if the flying ban isn't lifted this month, Chief Executive Officer Gary Kelly said Thursday. While Southwest has yet to make a final determination, Kelly said the current schedule is at risk after the Federal Aviation Administration this week highlighted the remaining hurdles in the re-certification process.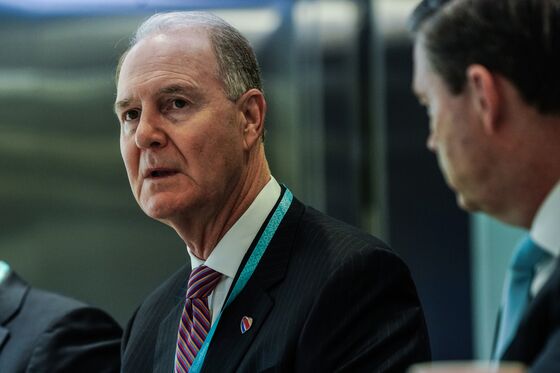 "We'll continue to guess when the Max will be available to us to put back into revenue service," Kelly, 64, said in an interview. "If they can't get the airworthiness directive to return to service this month, it will make it hard for us to make March 6."
Southwest, the largest Max operator, and the two other U.S. carriers that have the plane recently scheduled the Max to resume service in early March, pushing back previous plans. Once the FAA approves the narrow-body jet to resume flying, customers will probably need months for pilot training and other preparations to return to commercial service.
Boeing's top-selling jetliner has been grounded since March after two crashes killed 346 people.
The scheduling comment was among topics Kelly discussed during a wide-ranging interview at the Bloomberg News headquarters in New York. Here are his edited responses to questions.
"They are a great American company, the leading aerospace company in the world. Are there challenges in the company? Probably. Have they handled those perfectly? Absolutely not. Do they seem to be willing to address those things? Yes. They have some things they'll need to do to boost our confidence."
"There's no benefit to piling things on, in my opinion. Manufacturing an airplane is a major undertaking. It is a marvel of mankind that it works as well as it does. There are issues and things are discovered over time. We understand about that. Obviously we expect them to minimize that.... I think Boeing can do better."
"Clearly being grounded could put you out of business. It's difficult to mitigate that fleet risk. You almost go, 'How many fleet types do you have to have before you have assurances you aren't exposed there? But it's a real challenge to overcome the merits of having a single fleet type. It will be incumbent upon Boeing's competitor, Airbus, to influence us."
"There are a lot of merits to having a single fleet type. It's a huge hurdle to overcome. It also can't be done in days. I guess it would take us five years. It would be a lot of effort and would pre-empt a lot of things we have judged to be important."
"We're not going to do basic economy. I stand by what I've said over the years. We've already teased that we have some ideas about some new revenue streams; we revealed one this year. We have a couple of other things we're working on not ready for prime time. We have no plans to change our bags-fly-free policy, our no-change-fee policy, not any of those."
"What you will see from Southwest over the next generation of leaders is, the core of our network is domestic," said President Tom Nealon. "Not just because we're boring, but because our economic model is based on aircraft productivity."
"I think the Max 7 has the range to do from the Northeast to Europe," Nealon said. "I'm not sure that's how you'd choose to use the aircraft -- such a high use of one aircraft for such a long period of time. The idea would be to codeshare partner with other airlines."
"Our board is very confident in our leadership team," Kelly said. "I don't sense they're in a hurry to get rid of me, and I don't plan on going anywhere. When I do transition, I've talked to them about staying on as chairman. I feel like I'm young and have a lot of energy. As long as I feel like I'm contributing, I'd like to be a part."