Southwest Jet Bellies to a Stop After Skid Off Rainy Runway
(Bloomberg) -- A Southwest Airlines Co. jet rolled off the end of a California runway as it landed in the rain, skidding to a stop on a crushable concrete surface designed to hinder out-of-control aircraft.
No one was injured in the incident that occurred about 9:05 a.m. local time. Flight 278, carrying 112 passengers and five crew, had just landed in Burbank on a flight from Oakland, said Brandy King, a spokeswoman for the Dallas-based carrier. The Boeing Co. 737-700 rolled into the area known as the Engineered Material Arresting System, according to Southwest and the U.S. Federal Aviation Administration.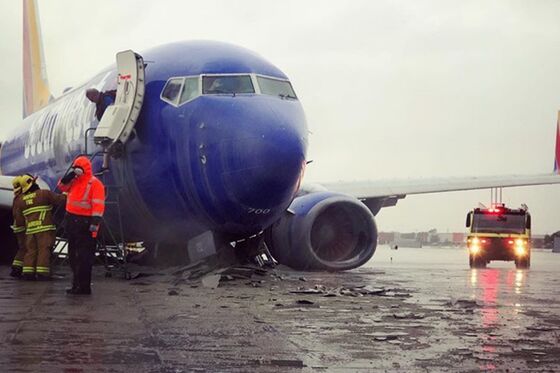 The incident occurred on the same Burbank runway where 43 people were injured in March 2000 after a Southwest 737-300 overshot its landing. That jet plowed through a fence before skidding to a stop in the middle of a street, 39 feet from a gas station. The crushable concrete surface was installed after that accident.
The plane in Thursday's incident landed in rain with a partial tail wind of between 9 and 13 miles (14 and 21 kilometers) an hour, according to government weather readings at the airport. While landing in some tail winds is permitted, such conditions can add substantially to the distance a jet needs to stop and have been cited as factors in numerous accidents. Pooling rainwater on a runway can also make it more difficult to stop.
An air-traffic controller warned the pilots of "heavy precipitation now directly over top of Burbank," according to an archived recording on LiveATC.net. "Perfect, thanks," an unidentified person replied.
Commercial pilots must calculate the distance they need for braking on a runway, taking into account rain, snow or other factors, and then add an additional safety margin. Pilots aren't permitted to attempt a landing unless their calculations show they meet that margin.
The EMAS beds have been installed at the ends of 106 runways at 63 U.S. airports, and there are plans to install them at six additional airports, according to an FAA fact sheet from July. They have been credited with preventing or lowering the severity of multiple accidents. Instead of continuing to skid beyond a runway, planes roll onto the beds and sink into the crushed material, stopping in a much shorter distance.
An EMAS bed at LaGuardia Airport in New York helped stop a plane carrying Mike Pence in October 2016 when he was a candidate for vice president. The pilots of the Boeing 737-700 didn't properly apply stopping devices, the National Transportation Safety Board concluded. No one was injured.
The pilots had landed at excessive speed and at too sharp an angle in the 2000 Burbank accident, the NTSB found after an investigation. Failure to abort the landing approach and an air-traffic controller's positioning of the plane for landing also contributed, the agency determined.