Southwest Air Plunges Most in Two Years on CEO's Cost Warning
(Bloomberg) -- Southwest Airlines Co. tumbled the most in two years as Wall Street worried that expenses are getting out of hand.
Investments in new technology and airport facilities haven't paid off as much as expected, said Chief Executive Officer Gary Kelly. Costs for each seat flown a mile, a key measure of efficiency, will climb at least 3 percent in 2019 even after excluding fuel and certain other items. That outstripped analysts' expectations.
"We're not seeing the kind of efficiences here that I was counting on," Kelly said on an earnings call Thursday. "We're just going to have to work much harder to do that."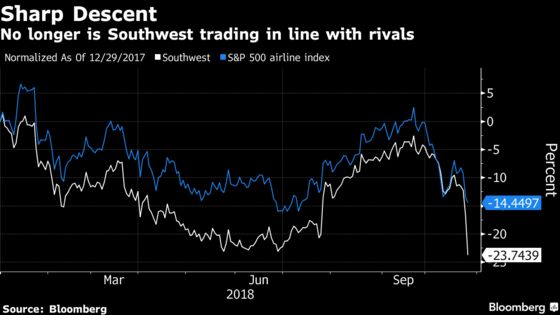 The outlook suggests a challenging year for Southwest, in contrast to the improving fortunes at rivals such as Delta Air Lines Inc. and United Continental Holdings Inc. Southwest is considering how to get more revenue from a new $500 million technology upgrade that's given the carrier more flexibility to raise fares and fees. It's also considering delays to some spending planned for next year to contain cost creep.
"The time is now," Kelly said, referring to the need to take action. Pressed for more details on the situation, however, he said, "we're not ready to provide more information than that because that is all I feel like we can accurately tell you at this point."
The shares plunged 8.3 percent to $40.07 at 2:34 p.m. in New York after sliding as much as 10 percent for the biggest intraday decline since October 2016. Southwest dropped 17 percent this year through Wednesday, worse than Delta and United but better than American Airlines Group Inc.
Southwest's expectation of a 3 percent increase in the seat-cost measure was higher than the 1 percent increase expected by analysts, said Savanthi Syth, an analyst at Raymond James Financial Inc. The metric excludes fuel, profit-sharing costs and one-time items.
Kelly said he isn't satisfied with the outlook and "can't imagine" that investors are either. It's the first time Southwest has provided such extensive insight this early into the outlook for the next year.
"Driving efficiency will become a No. 1 priority," Kelly said in an interview. "We've gone through an investment phase where we were transforming Southwest with new airplanes, new reservation system, new frequent flier program. The next three to five years will be more focused on driving efficiency and maintaining our low cost position."
The cost forecast "likely drives '19 consensus lower," Evercore analyst Duane Pfennigwerth said in a note to clients.
Revenue trends are healthy at Southwest, Kelly said, and the airline set a goal of expanding profit margins next year. But the company's ability to do that "is likely to be met with investor skepticism," Syth said.
Southwest said revenue for each seat flown a mile, a gauge of pricing power, will rise 1 percent to 2 percent in the current quarter. That's less than the forecasts at Delta, United and American.