Southwest Airlines Expects Bookings to Recover After Fatal Engine Accident
(Bloomberg) -- Southwest Airlines Co. jumped the most in 18 months after saying bookings and fares are rebounding after a deadly accident in April.
Revenue for each seat flown a mile, a closely watched gauge of demand and ticket prices, is poised to rise as much as 1 percent in the three months ending Sept. 30, the Dallas-based airline said in a statement Thursday. The measure declined 3 percent in the second quarter, as Southwest suspended marketing for about a month following the fatal engine explosion.
"We have recovered at this point," Chief Executive Officer Gary Kelly said in an interview. "We have been enjoying very strong close-in demand and close-in revenue for a number of weeks."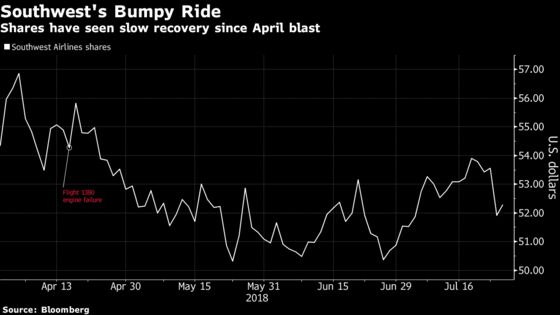 Southwest is climbing its way back from a $100 million blow to second-quarter revenue because of the first passenger fatality in the airline's 47-year history. The company is also curbing growth plans to contend with a roughly 40 percent jump in jet-fuel prices over the past year. With an expanding economy spurring travel demand, airlines are banking that a tighter seat supply will give them greater power to raise ticket prices.
The shares rose 8.2 percent to $56.56 at 3:31 p.m. in New York trading after advancing as much as 8.5 percent for the largest intraday gain since January 2017. A Standard & Poor's index of the five largest U.S. carriers climbed 5.4 percent. Southwest had tumbled 20 percent this year through Wednesday, while the index declined 12 percent.
Capacity will increase around 4 percent this year, down from earlier plans for a little more than 5 percent, Southwest said last month. American Airlines Group Inc., Delta Air Lines Inc. and United Continental Holdings Inc. have also recently disclosed plans to pare routes. Carriers generally face a six- to 12-month lag in recovering higher fuel costs.
Southwest said revenue for each seat flown a mile would be in a range of down 1 percent to up 1 percent during the third quarter. The accident won't have a material impact on fourth-quarter revenue trends, the airline said.
Second-quarter adjusted earnings rose to $1.26 a share. Analysts had expected $1.23, according to the average of estimates compiled by Bloomberg. Revenue increased less than 1 percent to $5.74 billion, while analysts predicted $5.77 billion.
Federal safety inspectors have said metal fatigue caused a fan blade to shear off on Flight 1380 from New York to Dallas on April 17, destroying the engine and sending metal flying. One piece broke a window and a woman was partly sucked out of the plane before being pulled back in. Her death was Southwest's first passenger fatality from an accident.
The incident prompted U.S. regulators to order inspections on tens of thousands of blades on the widely used CFM56-7B engines, which were built by a joint venture of Safran SA and General Electric Co. The National Transportation Safety Board has set a Nov. 14 hearing into the accident.
Southwest has voluntarily stepped up repeat inspections of fan blades on its engines to every 1,600 flights, from the 3,000 mandated by the U.S. Federal Aviation Administration, Chief Operating Officer Mike Van de Ven said. The change was made after the engine manufacturer discovered flaws in about six more blades, including one from a Southwest plane, he said.
The carrier is shifting its focus to improved cost control and increased efficiency in 2019 and beyond, Kelly said.